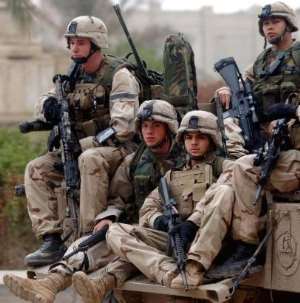 By Nana Akyea Mensah, the Odikro...
A Rejoinder To Feature Article of Monday, 25 May 2009
Obama's Visit – What's In It For Us And U.S.? By Asare Otchere-Darko
The "Baloney!" Declaration:
'ACCRA, Ghana (CNN) February 20, 2008.
"The purpose of this is not to add military bases," Bush said. "I know there's rumors in Ghana -- 'all Bush is coming to do is try to convince you to put a big military base here.' That's baloney. Or as we say in Texas, that's bull."
- Mr. George W. Bush, Jr., (President of United States of America in Accra, Ghana. February 20, 2008.)
The president of Ghana, John Kufuor, said he welcomed Bush's comments.
"I am happy for the president's dispelling any notion that the United States of America is intending to build military bases on the continent of Africa... I believe the explanation the president has given should put paid to the speculation so that the relationship between us and the United States will grow stronger and with mutual respect,"
- Mr. John Agyekum Kufuor, (President of the Republic of Ghana Accra, Ghana. February 20, 2008.)
(Source: CNN, "Bush: Rumors of U.S. bases in Africa are 'baloney'", February 20, 2008 -- Updated 1836 GMT (0236 HKT). CNN's Ed Henry and Tim McCaughan contributed to this report.)
This article is bound to have two parts or more. This is because I feel I am already suppressing my disdain, finding it difficult to believe that we have been lied to over such a serious matter, and refusing to appreciate why Ghanaians should even be called upon to accept a US military bases here simply because it is a done deal! I am sure we shall need to talk about all of that, but first of all, I wish to take some time to express my shock and dismay with all my might of wonder, to learn that what was openly referred to as "Baloney" and nothing to worry about is underway, far advanced, and virtually inevitable! I am very angry that Ghanaians have been lied to so blatantly by their own elected President. Boiling at the autocratic insolence behind the "what's in it for us?" question that Mr. Ochere-Darko is now posing. I am certainly amazed that a matter of fundamental concern to each and every citizen could be cooked up to such an extent without an open and frank national democratic debate whatsoever!
Kwesi Pratt Jnr., The Alarm and the US Embassy Denial
Many Ghanaians were taken aback and did not know whom to believe when the Managing Editor of the Insight Newspaper, Mr Kwesi Pratt Jnr., insisted that he had evidence to support his claims that the US government is planning to set up a military base here in Accra. According Mr. Pratt, the establishment of the base was part of a grand design by the US to control West Africa. Mr. Pratt warned that the establishment of such a base in Ghana was recipe for disaster and called on Ghanaians to stand against it.
Speaking in an interview with Joy News, after the denial of his allegations by the US Embassy Mr Pratt said his claims were contained in a US committee's report written by US Vice President Dick Cheney.
"The evidence we have is in an official report prepared by the US Vice President which is called the Cheney Report. And it is a report commissioned by President Bush himself when he set up the Cheney Committee to review how to meet America's energy requirement up to the year 2015. If the US embassy here is denying it then I don't know what to say," he said.
The Minister of Defence, Dr Kwame Addo Kufuor, also joined the Americans to deny the claims that the US government intends to establish a military base in the Northern Regional capital, Tamale. Dr Addo Kufuor said "the US has no reason to establish a base in West Africa." This was after Mr. Pratt had again mounted a platform at Tamale to denounce the establishment of a base there. Mr Kwesi Pratt Jnr, had alleged that the US is planning to establish a base in Tamale. This was contained in an address he delivered to a forum of the Committee for Joint Action in Tamale last Friday, Mr Pratt called on the people to resist any such attempts.
Dr Addo Kufuor who was in Tamale to seek support for his presidential bid, said the claims were baseless. Addressing journalists and some New Patriotic Party (NPP) constituency executives at a dinner in Tamale, Dr Addo Kufuor said the claims were baseless.
"If for any reason the US wants to establish a military base in West Africa it could do so by sending its warship to the West Africa coast." Said Dr Addo Kufuor, as he challenged "Mr Pratt and his CJA cohorts to provide evidence."
Putting "paid to the speculation"
With hindsight, I find our own elected President Kufour's remarks after the "Baloney" Speech"the most treacherous of all. After allaying the fears of Ghanaians the guy simply went ahead to secretly plot with the Americans to speed up their preparations for the base whilst he turned around to tell Ghanaians that:
"I am happy for the president's dispelling any notion that the United States of America is intending to build military bases on the continent of Africa... I believe the explanation the president has given should put paid to the speculation so that the relationship between us and the United States will grow stronger and with mutual respect"!
Ghanaians were not alone in thinking the AFRICOM deal was over. The BBC reported:
"Despite the warm words, Ghana is refusing to host any US facility or base on its territory under Africom, whose creation was announced a year ago. The idea of setting up a military command in Africa is an unpopular idea, and so far only Liberia has said it would host it, says the BBC's Will Ross in Accra. Critics say Africom is designed to protect strategic American interests on the continent such as oil."
(Source; BBC, "US 'is not seeking African bases' " Last Updated: Wednesday, 20 February 2008, 13:38 GMT)
There is little wonder therefore that as at the time of going to the polls on 6th December, 2008, including the run-offs that followed, nothing was mentioned of these plans. Indeed, the President was very right, the Baloney Declaration "put paid to the speculation" over the establishment of the US military bases in Ghana. For most of us with the supposed refusal of President Kufour, publicly confirmed by President George Bush, that was the end of the story.
For example, Abayomi Azikiwe of the Pan-African News Wire wrote:
"Recent Bush administration plans to implement AFRICOM has been met with rejection among various African countries. Two of the largest nations in Africa, Nigeria and South Africa, have refused to allow the American military to set up AFRICOM bases in their respective territories and have come out solidly against any other country allowing such intervention... In a press conference with the American leader, Ghanaian President John Kufuor said he was happy to hear Mr. Bush dispel any notion of new U.S. bases in Africa. So far, only Liberia has publicly expressed an interest in hosting AFRICOM headquarters. President Bush says he is seriously considering that request and will discuss it further with Liberian President Ellen Johnson Sirleaf during talks in Monrovia Thursday."
(Source: MECAWI Conference: What's Behind the Bush Trip to Africa?: The True Role of US Intervention on the Continent, Saturday, Feb. 23)
Apparently that is not the case. Of course, some of us saw through this as a possible diversionary tactic, which did not stop the next President of the United States from asking the next President of Ghana, the same question, after the elections, whilst the underground preparations continued, far beyond the scrutiny of the media and the Ghanaian public. The only reason why Ghanaians have been kept in the dark until the very last minute is because of narrow, greedy and selfish partisan interests which have no connections with well being of Ghanaians.
It is understandable that the NPP wanted to deceive Ghanaians until after the elections and did not want to complicate Akufo Addo's chances of winning the next elections. Thus the "Baloney!" Declaration was clearly a diversionary tactic to pull a fast one on our eyes. After all, what has George W. Bush, Jr. got to lose if lied a little bit to Ghanaians? Meanwhile the deal must have been that the NPP on its part, was to do its best to win, whilst Nana Akufo Addo must, at all cost be protected from committing himself publicly to a "Yes" or "No" response to the AFRICOM question, until he had successfully doubled the police force, enough to be able to deal scientifically with the majority of Ghanaians who would oppose such a move! The rest of the story, as the ancients say, is history. Suffice it to say that it was a far cry from the "one-touch" victory that had been envisaged. So the plans must have received a major blow.
The "What's In It For Us?" Question:
"At the moment the Americans say they are happy to keep the U.S. Africa Command headquarters in Germany, to coordinate all U.S. military and security interests throughout the African continent. But any reasonable assessment must conclude that this can be nothing but a temporary address and arrangement. Ghana should welcome that it is thus the target of America's desire – and we should make the most of this, using it for our own advantage. After all, the process has already started."
"Obama's Visit – What's In It For Us And U.S.?" By Asare Otchere-Darko, Feature Article of Monday, 25 May 2009.
A fait accompli against our national sovereignty?
The www.phrases.org.uk/ defines "a fait accompli" as "an accomplished fact; an action which is completed before those affected by it are in a position to query or reverse it." This is something that no one among us has the power to do with our sovereignty. It amounts to the attempted robbery of the nation by the force of arms. In a fundamental matter such as this, that has serious implications on our status as an independent nation, that could even mean life or death to Ghanaians, as we have seen in the bombs that continue to fall on marriage ceremonies in Afghanistan, the minimum expectation ought to have been an open democratic national debate and not secretive and conspiratorial manoeuvres.
I feel greatly incensed by the casual manner Mr. Ochere-Darko breaks this news as though it is simply a matter of business, and not even making any attempt to explain the basis of the conspiracy that he confesses in the article. What does this mean? According to Asare Ochere Darko, even though the NPP government did not allow Ghanaians to have a say in whether or not they want a US military base on our soil, it is too late for the Atta-Mills government to say "No"! In other words, without any national debate, whether we like it or not the process has already been started and they cannot be reversed, so we are as good as being already occupied by a foreign power!
Do we already have the Illuminati among us? Why should some citizens be privy to such a matter that concerns all of us, in which every Ghanaian must be given the right to have a say, and the majority of Ghanaians fed with lies? I think the obvious question that one must ask Mr. Ochere-Darko is "Were we not made to believe that this matter was dead, settled, and beyond the scope of national debate, simply because the whole idea was a described by no less a person to Ghanaians in the presence of our own president as a witness that, "That's baloney. Or as we say in Texas, that's bull."?
Is this supposed to mean that the NPP government was simply throwing dust into our eyes whilst plotting secretly to undermine our national independence and sell us to the Americans? Fortunately for Ghana and Africa, the elections did not go their way. From the article under discussion, it seems to me that with Obama and Atta-Mills in power, the same special interests behind the establishment of the military base in Ghana, the military industrial complex of the USA, are acting as ventriloquists, using their local stooges, to revive their diabolic plot, and rope the two newcomers into the deal. Who else could fit better in the role of selling Ghana to the imperialists more than the very right hand man of Nana Addo Danquah Akufo Addo, the great Asare Ochere-Darko, himself?
If you should ask me what it was that worried me most in the article, I believe I would put my finger on the following seven words written by Mr. Ochere-Darko: "After all, the process has already started." Most of us are still dazed by the question. What this man is virtually telling Ghanaians is that for months, the NPP has been secretly plotting with foreign powers to establish military bases on our lands without letting out a word about it to the Ghanaian public. If this does not amount to the greatest conspiracy in the history of Africans, what else is? Slavery? Colonialism? This is an imperialist military occupation we are talking about for heaven's sake! I will not be done until all those found to have been involved in this crime are duly charged with conspiracy to commit subversion, subversion against the sovereignty of Ghana, and the concealment of subversion, aiding and abetting a foreign military power in times of peace.
Really, we can have a long list of charges, but I leave that to the Attorney General's Department!
--
* Nana Akyea Mensah, the Odikro, is a political commentator, analyst and a very experienced ghost since 1944!
Please you are welcome to my blog for further discussions on this serious matter: