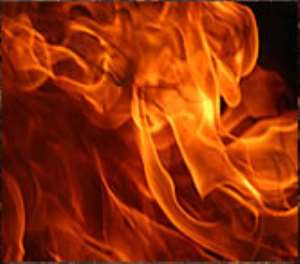 Kumasi, May 28, GNA – Some traders at Kumasi Central Market on Thursday afternoon wailed uncontrollably as blazing fire which gutted the market destroyed property worth several millions of Ghana Cedis.
The fire was so intense that some of the affected traders who could not withstand the scene collapsed and were rushed to hospital for treatment.
When GNA arrived at the scene, personnel from Ghana National Fire Service had a hectic time to enter the market to put out the fire because of many unauthorised structures that impeded their movement.
The cause of the fire was not immediately known, but rumours at the scene indicated that it was started by a trader who was cooking some food.
Hundreds of tearful traders and onlookers had gathered in front of the market watching the fire spreading while thick smoke billowed, the sky like gathered cloud in the atmosphere.
Madam Akua Nyarkoh, one of the affected traders in grief told newsmen that the fire started at about 1500 hours at the "18" area and no sooner had the Fire Service been alerted than the flames spread to other stores destroying many stores and properties.
Other affected traders told newsmen that they became confused as they could not do anything about the situation.
Some plain clothed security personnel were seen busily driving anxious traders away to safety.
Meanwhile, officials of Kumasi Metropolitan Assembly (KMA) and other stakeholders had arrived at the scene to assess the situation.
An official told GNA that in view of the seriousness of the fire and its threats to lives and property, the KMA had called for reinforcement from nearby fire stations to help bring the situation under control.
Fire outbreaks have been rampant at the market for many years with hundreds of traders loosing their wares through the fire.
Fire personnel had difficulty to quench fire outbreaks on time because of lack of access to the market due to congestion by traders who display their wares on the streets.
Several attempts by the KMA to decongest the streets and make the market easily accessible have been resisted by the traders, who play politics with it.
GNA