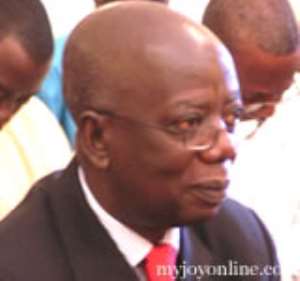 The Bureau of National Investigations (BNI) Tuesday questioned two top former gov­ernment officials, Kwadwo Mpiani, former Chief of Staff and Osei Adjei, former Minister of Foreign Affairs, reports The Chronicle newspaper.
According to the paper, a source said the BNI officials went to the house of Mr. Mpiani. who recently dared the Atta Mills government to drag him to court if they have evi­dence of corruption against him, but could not locate him. The BNI reportedly took the decision to go to his house after failing to contact him through the telephone.
A deal was however struck with the son of the former Chief of Staff and the officials of the BNI to make his father available at the BNI headquarters at 1 p.m. Thursday. "The son promised the BNI officials that he would accompany his father to their office Thursday at 1 p.m." the source said.
The former Chief of Staff is expected to be quizzed on a wide range of issues, including allegations of corruption, malfeasance and financial loss to the state, and the operations of Ghana International Airline and other reported transactions during his tenure as Chief of Staff.
Mr. Osei Adjei, a former legis­lator and ex-Minister of Foreign Affairs, the paper says, was at the offices of the BNI where he was questioned.
Issues that took centre stage were about the importation of rice from India by his Ministry, among others.
Mr. Osei Adjei, who made the headlines last week with regard to the renovation of a house at Kumasi, among others, is said to have provided some answers to the BNI.
It would be recalled that various comments from the NDC officials hinted of possible prosecution of former Ministers under the former NPP regime. Responding to some of these threats, Mr. Mpiani told the media that his hands were clean and that he had done nothing wrong to be afraid of prosecution.
He declared his readiness to face the ruling National Democratic Congress (NDC) at the law courts over allegations that he and some other former Ministers would soon face prosecution.
According to him, he is ever pre­pared to answer questions relating to his duties under the NPP admin­istration and that he had done noth­ing untoward to be afraid of court action.
To him, Ghana is practicing rule of law, where everybody is allowed to express his views and opinions, unlike the regime of coup d'etats.
"I am not worried about the allegations and threats. It is the pre­rogative of the government to pros­ecute people who they think have done wrong.
If the NDC claims they have the evidence after their investigations to put us before court, we are ready for them," he said.