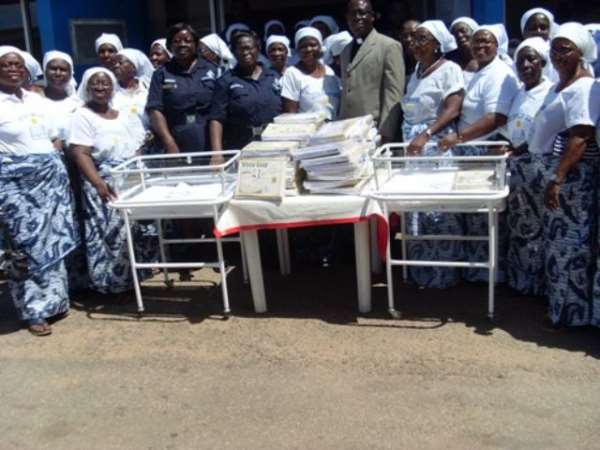 The Women Followship of Police Curch donated to police hospital
Accra, May 26, GNA - The Women's Fellowship of the Ghana Police Church on Tuesday donated 50 sets of bed sheets and two baby trolleys valued at 1,200 Ghana Cedis to the Female Ward of the Police Hospital in Accra.
Speaking at the presentation, Madam Cecelia Afriyie, President of the Fellowship, said the donation was in fulfilment of the Fellowship's social responsibility and also formed part of the Fellowship's 43rd anniversary celebrations.
She praised the Hospital for the good work it was doing for the society and called on all to contribute their quota towards equipping the Hospital.
A Gynaecologist at the Hospital, Assistant Commissioner of Police (ACP) Dr Amo Mensah, who received the items, thanked the women for their kind gesture and urged them to always endeavour to come to the Hospital's aid.
The Fellowship has also adopted the Female Ward of the Pantang Psychiatric Hospital
GNA


ce (A.C.P), beside him Rev. Hannah sackey (Police), Mrs Grace Herman (Police),and Maclean the AdminitrativeManager

SL380285 Mrs Cecelia Afritie the president of Women s Fellowship of polce church presidenting the donation