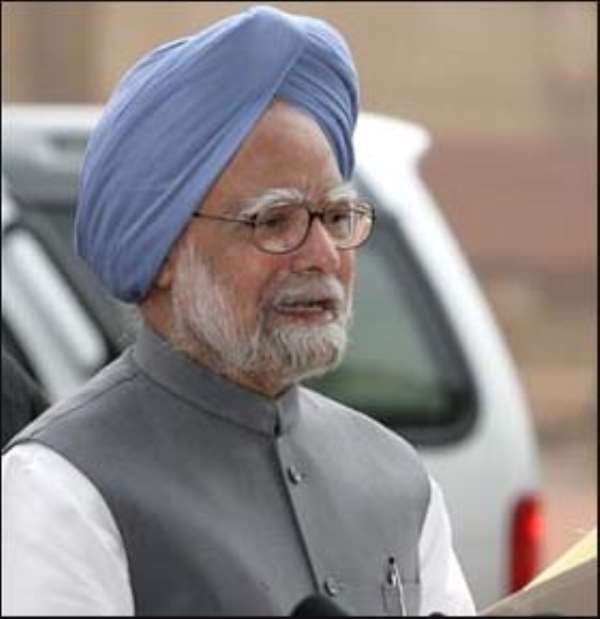 Manmohan Singh India's new government, with Manmohan Singh as prime minister, has taken the oath of office in the capital, Delhi.
Mr Singh is taking charge for a second time, only the second PM after Jawaharlal Nehru to be returned to power following a full five-year term.
The Congress party won a decisive mandate in the recent polls and Mr Singh has emerged politically stronger.
Congress has made tackling the effects of the global economic crisis and ensuring growth its key priorities.
When votes were counted last weekend after India's marathon five-phase general election, Congress and its allies had 262 seats in parliament, compared to the BJP-led alliance's 158.
Pakistan's message
Mr Singh and a 19-member cabinet took the oath of office from Indian President Pratibha Patil at a ceremony at Rashtrapati Bhavan, the presidential palace, in Delhi.
Congress veterans Pranab Mukherjee, AK Antony and P Chidambaram were among those taking the oath.
Sharad Pawar and Mamata Banerjee, who are among the key alliance partners, are also in the cabinet.
The swearing-in will be followed over the next few days by announcements of other ministers.
"This expansion will give due representation to allied parties," the prime minister's office said.
On Friday, Pakistan's President Asif Ali Zardari sent a message congratulating Congress.
"May I also take this opportunity to assure you that Pakistan remains committed to peace and prosperity in South Asia and will continue to work with India to resolve all outstanding issues between the two countries peacefully and in a just manner."
Bargaining hard
Indian economic analyst Paranjoy Guha Thakurta says the challenge for Mr Singh's government will be to meet the aspirations of India's youthful and upwardly mobile middle classes while widening social safety nets for the poor, especially those living in rural areas.
But he says the Congress mandate is strong, with the weakening of parties on the left and right.
In recent days, Mr Singh and the leader of his Congress party, Sonia Gandhi, have been bargaining hard with their electoral allies over the distribution of cabinet positions.
On Thursday, the DMK left the alliance after talks failed. Reports said DMK leader M Karunanidhi was unhappy at the number of cabinet posts offered.
The Tamil Nadu-based party said it would still support the coalition from the outside.
The Congress-led coalition said it had the support of 274 lawmakers prior to the DMK's announcement, two more than needed for a parliamentary majority.
With outside support, the coalition said it had 322 members of the lower house of parliament backing it.
The BBC's Sanjoy Majumder in Delhi says many thought that during his first term Mr Singh would find it difficult to withstand the pressure of demanding political allies.
But throughout his career, our correspondent says, Mr Singh has displayed an ability to stand firm and outlast his most trenchant critics.