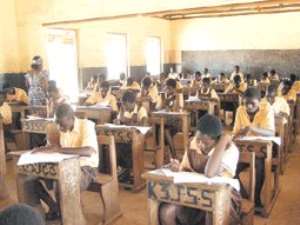 The Government of the National Democratic Congress (NDC), as part of its promise to the electorate, has hinted that it will, in consultation with all stakeholders, take a second look at the current educational system. The essence of this promise, I believe, is to help all Ghanaians ready to take advantage of our educational system realise their aspirations. Since its formation the NDC, seem to prescribe an economic policy that recognises the critical need to invest in infrastructure and the Ghanaian people. But to what extent has the party succeeded in bringing this thinking into fruition?
The purpose of this article (which by the way posted on ghanaweb in July last year) is to have a look at one key investment that can make Ghana more competitive in the global economy - investment in education. May I however emphasise that I do not pretend to have all the answers, but I can, as a member of the party, offer a few examples of where we can break free of our current educational stalemate; places where, in line with the tradition of our first president, Dr Nkrumah, we can begin to modernise and rebuild the social contract that must exist between elected officials and the citizenry.
Since independence, education has been at the heart of a bargain Ghana makes with its citizen: If you work hard and take responsibility, you'll have a chance for a better life. And in a world where knowledge determines value in the job market, where a child in Bongo has to compete not just with a child from Axim but with millions of children in London, Bangalore and Rio de Janeiro, too many Ghanaian schools are not holding up their end of the bargain.
As a people we have become used to stories of many Ghanaian children languishing in schools that can't prepare them for the world of work. Ghana has an unacceptable high school dropout rate especially in the rural areas. By their senior secondary year, most of these students score very low on maths and science testing; most of all teenagers can't understand basic fraction; about the same proportion of nine year olds can't perform basic multiplication or division (16th June 2008 edition of Daily Graphic) and according to the Report of the Presidential Committee set by the educational system (the Anamuah Mensah Report), although more students, in terms of absolute numbers, progress from the pre-tertiary level to the tertiary level, those lucky students constitute about 10% of the original number that would have started in basic one.
I don't hold the view that government alone can turn this situation around. Parents have a fundamental responsibility for instilling ethics of hard work and educational achievement in their wards. But parents rightly expect their government, through the public schools, to serve as full partners in the educational process - just as it was during the first republic.
Unfortunately, instead of innovation and bold reform of our schools- the reforms that would allow the kids in Bongo to compete for jobs at Uniliver, Valco, Bank of Ghana, to mention but a few- what we've seen from government for close to a decade has been tinkering around the edges and a tolerance for mediocrity. Partly this is a result of a type of politics that is as outdated as it is predictable. There are many people both in and outside government who argue that taking cognisance of the fact that government spends between 30 to 40% of its recurrent budget on education the lack of funding can not be the reason for the poor standards of education; that the problems in the public schools are caused by hapless bureaucracies and intransigent unions like NAGRAT, GNAT, TAWU etc; and that they only solution is to break up these unions and liberate our schools from these people who do not have the interest of our children at heart. There are those equally who subscribe to the view that more spending alone will improve educational outcomes.
Both positions, in my humble opinion are wrong. Money does matter in education- otherwise why would parents spend fortunes to keep their kids in private schools and many urban and rural schools still suffer from overcrowded classrooms, outdated books, inadequate equipment and teachers are forced to pay out of their pockets for basic materials like chalk. But there's no denying that the way many public schools are managed poses at least a big a problem as how well they're funded.
Our task, then, is to identify those reforms that have the highest impact on student achievement, fund them adequately and eliminate those programmes that do not produce results. And in fact we seem to already have hard evidence of reforms that work; a more challenging and rigorous curriculum with emphasis on maths and literacy skills; longer hours and more days to give children the time and sustained attention they need to learn; early childhood education for every child, so they're not already behind on their first day of school; meaningful performance based assessment that can provide a fuller picture of how a student is doing; and the recruitment and training of transformative heads of schools and more effective teachers.
The last point- the need for effective teachers – deserves special attention. Recent studies suggest that the single most important factor in determining a student's achievement isn't the village he/she comes from or what religion he/she belongs to, but who the child's teacher is. Unfortunately too many of our schools, especially in the rural areas depend on inexperienced teachers (pupil teachers) with little training in the subjects they're teaching and too often those teachers are concentrated in already struggling schools. Moreover, the situation is getting worse not better. Each year, experienced teachers reach their retirement age and the lack of replacement of these retirees has made the teacher deficit phenomenal.
The problem isn't that there's no interest in teaching. As a trained teacher myself, I have constantly come across young and intelligent people who after graduation have been posted to teach in very rural schools and its no gain saying, that these young teachers go through trying moments. However, they find the work extraordinarily rewarding and the kids they teach benefit from their creativity and enthusiasm. But by the end of two years, most of these teachers either change carriers (source: GNA, 16 June, 2008) or move to urban schools – a consequence of low pay, a lack of support from the education bureaucracy and a pervasive feeling of isolation. If we are serious in building a twenty-first-century educational system, we must take the teaching profession more seriously. This means changing the certification process to allow, for instance, a chemistry major who wants to teach to avoid expensive additional coursework; pairing up new recruits with master teachers (mentors) to break their isolation; and giving proven teachers more control over what goes on in their classrooms.
It also means paying teachers what they are worth. There is no reason why an experienced, highly qualified and effective teacher shouldn't earn 26 thousand Ghana cedis annually at the peak of his/her career highly skilled teachers in such critical fields as maths and science- as well as those willing to teach in the toughest rural schools – - should be paid even more.
There is one catch. In exchange for more money teachers need to become more accountable for their performance – and district/municipal/metropolitan directors of education need to have greater power and ability to get rid of ineffective teachers. Observing the labour front in Ghana, my best bet is that teacher's unions would resist the idea of pay for performance, partly because, it could be disbursed at the whim of an authorised person. The union could argue – rightly so – that most districts will solely rely on test scores to measure teacher performance and that test scores may be highly dependent on factors beyond any teacher's control, like the number of low-income or special needs students in their classroom.
But these aren't insoluble problems. Working with NAGRAT, GNAT, District/Municipal/Metropolitan Assemblies and various District Directorates of education can develop better measures of performance, one that combine test data with a system of peer review (most teachers can tell you with amazing consistency which teachers in their schools are really good and which are really bad). And we can make sure those non-performing teachers no longer handicap children who want to learn. Indeed, if we're to make the investments required to salvage our educational system we must cultivate the faith that suggest that every child can learn. And to translate this faith into reality, we must begin to consider the option of expanding the free and compulsory education to cover the senior secondary schools, not because we have discovered oil as former President Kufour suggested in one of his numerous trips abroad, but a reduction in the cost of running government, reduction of public corruption and setting our priorities right can make funds available for this exercise.
Our investments in education can't end with an improved elementary and secondary education system. In a global economy which is increasingly becoming knowledge based and where eight of the nine fastest growing occupation require scientific or technological skills, most Ghanaian workers are going to need some form of higher education to fill the jobs of the future. And just as Ghanaians instituted free and compulsory basic education (and a proposal to include the senior secondary school system) at the beginning of the Fourth Republic to provide will-be workers the skills to make them employable, our government has to help today's workforce to truly adjust to twenty-first century realities.
In many ways our task seems very huge, considering that, policy makers have neglected our universities and polytechnics over the years. Our tertiary institutions are ill equipped to take on many students. And these policy makers and indeed the generality of Ghanaians don't need to be convinced of the value of a higher education. This can be seen in the number young adults getting bachelor's degrees and HNDs. This is why the call to use the Ghana Education Trust Fund (GETFund) for what it was established to do couldn't have been more right. There must be a heavy injection of funds into these institutions especially the polytechnics that have a mission to produce the middle level human capital that Ghana so much needs.
Another area Ghanaians do need help immediately is in managing the rising cost of tertiary education – something I am, as a former NUGS president, very much familiar with. Over the last decade the average cost of tertiary education has risen astronomically. To absorb this cost parents and students have been taking on ever-increasing debt levels, which is discouraging students from pursuing careers in less lucrative fields like teaching. And a large number of university-qualified students each year choose to forgo university altogether because they simply can't figure out how to pay the bills.
There are a number of steps to control cost and improve access to higher education. Government can limit the annual tuition fee increases at public universities and polytechnics and vote more money through the GETFund to cater for the deficit. For non-traditional students, online courses and the already existing distance education may provide a cost-effective option for retooling in a constantly changing economy. Students must also insist that their institutions focus their fund-raising efforts more in improving the quality of instruction than buying luxurious vehicles for the vice chancellors, heads of faculties and their spouses.
But no matter how well we do in controlling the spiralling cost of tertiary education we still need to provide many students and parents with more direct help in meeting university expenses, whether through grants, low interest loans, or tax-free educational savings accounts (i.e. if we tax our savings accounts as a country).
There is one other aspect of our education – one that can and should speak to the core of Ghana's competitiveness. Our tertiary institutions must serve as the nation's primary research and development laboratories. These tertiary institutions must train innovators of the future – from the discovery of an effective way of preventing malaria and guinea worm to improved ways agriculture – with government providing critical support for infrastructure and the funds for research that may not have an immediate commercial application, but that can lead ultimately to scientific breakthroughs.
I am not naïve that these proposals will need a large dose of capital. But I believe as a country we can and must do this. Our first step is to amend the GETFund act. At its present form, the Commissioner of the VAT service is mandated to pay these monies into the consolidated fund for onwards transfer into the GETFund account. This current practice has enabled the government to have access to this fund and in its rather short life; the fund has been applied differently from what it is meant for. An amendment therefore allowing the Commissioner to pay the GETFund component the VAT receipts directly into its account can forestall this challenge.
The fight against public sector corruption should not just be a cliché. There must be a commitment from government to fight that. Can we imagine the number of billions of cedis we will realise if we are able to prevent people from dipping their hands into the national kitty? Last but not the least; we must have our priorities right. What is the moral justification for buying presidential jets and building palaces for the president when we have critical issues in the education sector to solve? In other words we can afford to do what needs to be done. What is missing is not money but a national sense of urgency.
Credit: EDWARD ABAMBIRE BAWA
[Email: [email protected]