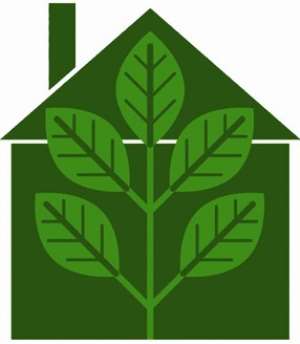 The Elizka Relief Foundation has decided to use insulated concrete forms (ICFs) as the primary building material for its new Hamlet Project in the Ashanti Region of Ghana. ICFs are stay in place concrete form blocks that promises maximum energy efficiency, strength, sound resistance, and speedy construction.
The Elizka Relief Foundation has the "objective of community development through sustainable appropriate technology, taking into consideration environmental effectives." ICFs were an easy choice to meet this objective. NUDURA's ICFs are made from recycled or recyclable materials. There is little waste produced during the construction of ICF buildings. All waste is 100% recyclable.
ICF buildings can boast of energy efficiency from the use of a combination of expanded polystyrene (EPS) and reinforced concrete. This combination produces an air tight and moisture resistant building, enabling building mechanical systems to cool and ventilate the structure more efficiently.
In collaboration with Sirius Kay, a construction company based in Ghana, The Elizka Relief Foundation is developing the Hamlet Project at Wioso in the Atwima Nwabiagya Constituency of the Ashanti Region. The project has a scheme of two and three bedroom homes and multi story residential housing units with both rental and sales packages.
Kofi Kankam of The Elizka Relief Foundation states that "the residential housing units are to be constructed with Insulated Concrete Foam (ICF) materials which are well proven beyond all doubt to be environmentally friendly, have less energy consuming rate, extremely durable, and quicker construction rate than masonry block construction."
The Hamlet Project Homes will also feature solar power electricity sourcing, a rainwater harvest system, and a wastewater management system. According to Kofi Kankam, "the project seeks to provide benchmarked residential housing units for the Ghanaian populace that shall balance high comfortable units with state-of-the-art living conditions reflective of the rapid advancement of technology and growing need for quality housing to curtail the housing problems of the nation."
With the use of solar power, tenants of The Hamlet Project Homes will be unaffected by the black outs common to Ghana. Solar power panels will allow them to enjoy an uninterrupted source of electricity. The rainwater harvest systems will enable the tenants to have an ever ready source of clean water to for drinking, house hold needs, and landscape irrigation. A wastewater management system ensures that all waste from the home is properly treated before entering back into the environment.
All three systems enable The Hamlet Project Homes to be constructed independent of Ghana's utility infrastructure. The homes will be self sufficient homes, meeting the need for a comfortable, healthy living environment.
To enquire about The Hamlet Project, please email [email protected] or call +233-541-654508. To learn more about ICFs, please visist www.lightreadyghana.com. To learn more about or contact the Sirius Kay Construction Company, please visit www.siriuskay.com.