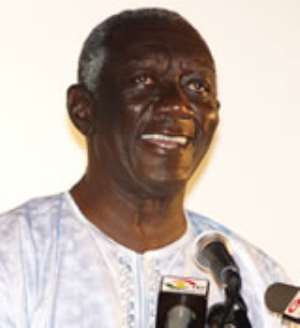 Performance Review of the Second Kufuor Administration
By: Yaw Adu-Asare
WOODBRIDGE, Virginia; Friday, May 15, 2009 --- This article is a brief discussion of the performance and outcomes of the second New Patriotic Party (NPP) government of Ghana (from January 2005 to December 2008) led by the former President John Agyekum Kufuor.
The discussion below is based on the assessment of the Kufuor administration by the former president himself in his speeches and pronouncements. In this regard, the discussion leaves room for Ghanaian readers to judge for themselves veracity of the former president's accounting of his stewardship during the period under consideration. The discussion allows Ghanaians to determine also whether the Kufuor administration accomplished what the former president had promised to do at the beginning of the second term.
Kufuor was so convinced of the success of performance of his four-year administration which he dubbed as a period of POSITIVE CHANGE, that he believed even, that the re-election of the NPP government to a second term in December 2004 was an affirmation of that conviction by Ghanaian voters. "Happily, we have remained committed to our promises and in return, Ghanaians have renewed our mandate for a second term," Kufuor told Ghana's parliament.
In spite of Kufuor's observation that the achievements of his first term in office remained work in progress, he believed "…the NPP government succeeded in laying a firm foundation for rapid economic growth." On that strength, he told parliament that implementation of "POSITIVE CHANGE CHAPTER 2" would be based on five priority areas for development selected by his first administration for focus. In that regard, Kufuor declared, "Government is sharpening its focus more by adopting a three-pronged strategy: (1) Vigorous Human Resource Development, (2) Private Sector Development and (3) a continuing emphasis on Good Governance," for "accelerated growth."
In addition to the designated "three-pronged strategy" Pres. Kufuor indicated to parliament that in his second term, "…government will promote the concept of "Ghana Incorporated" to inculcate a businesslike approach to all spheres of activity and emphasize the inter-dependence and common destiny among all stakeholders of the polity."
The five priority areas selected by the first Kufuor administration for development were the following: (1) Infrastructure provision; (2) Agriculture modernization in tandem with rural development; (3) Provision of social services, i.e. healthcare delivery and education; (4) Good governance implementation and (5) Private Sector development. In that regard, it is fair for one to assume that the second Kufuor administration was primed to use enhanced human resource development, the force of the private sector and good governance as instruments to boost performance in infrastructure provision and modernization of agriculture and rural development.
At the beginning of his final year as president, J. A. Kufuor described his State of the Nation Address to parliament on February 14 2008, as a report of his government's performance that had been about improving the conditions of Ghanaians. In that address, President Kufuor stated: "Mr. Speaker, on balance, Ghana has been doing progressively well under my watch, and enjoying tremendous goodwill both from within and from the international community, as a result of the performance of the government over the past seven years."
In the 13-page final "State of the Nation Address", Kufuor detailed the policy actions that his administration had executed and their outcomes and concluded that "Ghana is now solvent and the economy is strong and resilient."
Yet, in spite of Kufuor's view that Ghana's economy in 2008 was solvent, strong and resilient, he offered that "inadequate liquidity" had been a major constraint to effective discharge of development programs." Additionally, Kufuor acknowledged Ghana's "dependency on external donor support."
In all possible worlds, no reasonable being would have expected President Kufuor to give anything less than a glowing account of his stewardship. Therefore, there is a need for Ghanaians to do an objective independent examination and analysis of performance and outcomes of public policies and measures executed by the Kufuor administration during its second term, to evaluate the reality or otherwise of the positive claims made by the former president.
If all the positive indicators the former president presented had materialized in actuality, they should have reflected on how majority of Ghanaians produced the conditions for daily existence.
Nevertheless, with one's knowledge of the social and economic conditions under which Ghanaians work and live, as a legacy of the second Kufuor administration, one could infer that two things did not happen: (1) That the national wealth of Ghana did not trickle down to the majority poor; and (2) that there must have been a case of uneven development across regional lines as well as between rural and urban areas of the country. Either way, a case can be made to support a charge of inefficient execution of public policies by the second Kufuor administration and there must be reason(s) for that deficiency; could corruption be one of the reasons?
In spite of the glorification of his first term administration's performance, J. A. Kufuor admitted at the beginning of the second term that the "remarkable achievements" he spoke of at the conclusion of his first term, remained "essentially, work in progress." Thus, it is germane for one to ask whether Ghanaians re-elected the Kufuor administration to a second term in appreciation of "work in progress"?
For this writer, Ghanaians re-elected the NPP government to a second term on the assumption that the Kufuor administration could redeem itself by concluding execution of the public policies it had initiated. This is why it must be reasonable for one to examine performance and outcomes of the second Kufuor administration to deduce the benefits to Ghanaians from the opportunity they offered the NPP government to enable it to bring the so-called work in progress to logical and profitable conclusion.
In a book I authored in 2006, one of the conclusions was that precisely because of failure to execute its own stated active public policies to logical and profitable conclusions, inefficient governance characterized the first Kufuor administration. Thus, the so-called "work in progress" reflected the inefficacy in governance that I identified.
On the basis of the above, I stand on good ground to doubt the glorified claims made by former President Kufuor about the performance and outcomes of his second term administration. Indeed, if Kufuor's claims about his second term were accurate, one has to wonder why Ghanaian voters refused to re-elect an NPP government in 2008? Obviously, the "tremendous goodwill" within Ghana towards the Kufuor administration, as the former president believed, did not translate into votes at the poll.
It would take an independent and objective analysis of the claims made by former president Kufuor about his second term to ascertain if Ghanaians truly benefited from "Positive Change Chapter 2" or remained the worse for it. One can only hope, that out of office, Kufuor would not see critics of his second term administration as cynics or doomsayers, as he did when in power.
-end-
The writer Yaw Adu-Asare is the author of "Ghana, In Search of Illusive Positive Change". He can be reached at [email protected].