Row breaks out between Andani and Abudu gates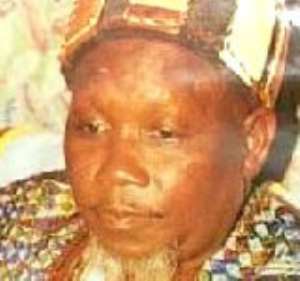 A row has broken out in the Dagbon Traditional Area after the Andani side of the royal family of the Dagbon Paramountcy decided to renovate the old Gbewaa Palace.
Following the rehabilitation undertaken amidst heavy security, the Abudu gate has vowed to resists any attempt by the Andanis to take over the palace.
An Andani elder, guarded by heavy security, went into the palace over the weekend and renovated a sacred room.
The Sacred Room of the Gbewaa Palace is where the final spiritual rites are performed before a new Ya Na is installed.
The Committee of eminent chiefs mediating the conflict has advised the two factions to desist from performing the rites since Ya Na Yakubu Andani was assassinated in 2001.
However spokesperson for the Andanis, Dr. Yahooza Gomda defended the action saying the room needed to be renovated to prevent it from total collapse.
"We won't let the monuments of Dagbon to be destroyed by the weather because some people want it that way," he told Joy News' Sammy Darko.
He said although the Abudus attempted to renovate the palace, they had no mandate to do that.
According to him, the Abudu gate cannot oppose the renovation, adding, "we are not going to allow Abudus to make Dagbon to fall apart."
Dr. Gomda said the two belligerent gates could not agree on renovating the palace because there are criminal gangs among the Abudus.
But the Abudu faction dismissed the claims suspecting mischief in the action of the Andanis.
Abudu youth, Alhaji Mugisu Seebawei said it was abominable for the Andanis to renovate the palace.
He said the Andanis opposed moves to renovate the palace and surmised there was a sinister motive for renovating the place.
"The youth of Abudu wanted to renovate that house and police and soldiers attacked them and we even lost three lives on that issue. Now there is armoured car guarding that house for Andanis to renovate it. Why now," he asked.
Alhaji Seebawei believes that in the interest of peace, the two gates could have consulted with the Asantehene Otumfuo Osei Tutu II who is leading the mediation efforts, before any renovation exercise.
The Yendi Divisional Police Commander, Supt. Oscar Kofi Amevenu said the security are keeping a close watch on developments and are ready to deal with skirmishes.
He said his outfit directives from the Northern Regional Security Council to provide security for the renovation and they acted accordingly.
He gave the assurance that area was calm though.
Story by Malik Abass Daabu/Myjoyonline