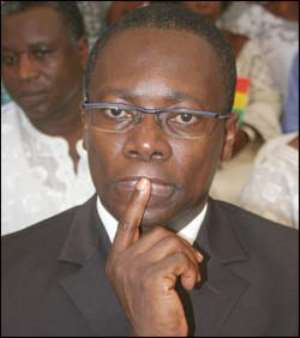 Dr George Yankey - Minister of Health Beginning today, Monday, May 18 to Sunday May 24, 2009, medical doctors across the country would adopt what is called 'work-to-rule-work' schedule in the discharge of their professional duties at the various public health facilities.
Against this backdrop, doctors in the country would within the declared period work from 8:00 am to 5:00 pm each day just as every normal civil servant.
On a more serious note, henceforth, doctors in the country irrespective of their rank and status would not work in the night and on weekends.
These shocking pronouncements were contained in a communiqué released to the press after a two-day deliberation by the National Executive Council (NEC) of the Ghana Medical Association (GMA) in Kumasi on Thursday.
According to the communiqué signed by the President of GMA, Dr Emmanuel Addo Winful, should government fail to respond favourably to their new salary demands, doctors would from May 25-30 attend to only emergency cases from 8:00 am to 5:00 pm excluding weekends.
He declared that after May 30, if nothing pleasant comes from government with regard to their new salary demands, the NEC of GMA would meet again to deliberate on the next line of action.
Dr Addo Winful explained that his outfit was compelled to come out with this set of decision because of the stalling of negotiation between government and GMA on their new salary proposal and other conditions of service.
He disclosed that the negotiation talks which began on May 9 got stalled on May 12 without government and the GMA reaching a compromise.
The GMA President explained that the negotiation talks got stalled because government was not ready to respond favourably to the demands of doctors.
Dr Addo Winful indicated that government's demeanour at the negotiation table abundantly demonstrated that it was not ready to listen to the concerns of doctors.
Expressing worry that since 2006 doctors have not received upward adjustment in salary, the President noted that his outfit was in support of the recent strike action embarked on by the junior doctors at the Komfo Anokye Teaching Hospital (KATH) in Kumasi.
He said they were in support of the industrial action because what the doctors were looking for affects the living standards of doctors in the country irrespective of rank or status.
It would be recalled that junior doctors at KATH on May 1 laid down their tools in protest of unpaid fuel allowances which was in arrears for 18 months and government's refusal to resume negotiation talks on their proposed new salary structure.
The junior doctors called off the almost week-long strike action when the management of KATH paid the fuel allowance to them and also government's assurance that talks on their proposed salary structure was to begin.
Before calling off the strike, the junior doctors made it crystal clear that they would revisit their action, should nothing concrete come out of the negotiation between government and GMA.
From Morgan Owusu, Kumasi