Gambian government held liable for 44 Ghanaian deaths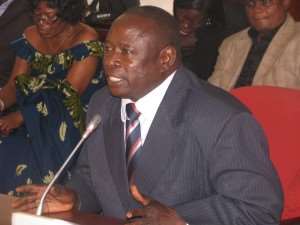 The Gambian government has been found liable for the mass murder of some 44 Ghanaians and natives of other West African countries, a joint UN and ECOWAS investigative team has disclosed.
The deceased, mostly immigrants, were found dead, 2005, in the Tangy forest in Banjul in what the Ghanaian government said was state sponsored killing.
After years of near diplomatic row between the two countries dotted with several failed commissions of enquiry, the UN and ECOWAS investigative team say the Gambian government should be held accountable.
The Government was not found directly responsible for the murders, but it failed to protect the lives of the immigrants in its jurisdiction.
By international law, countries must take responsibility for protecting the lives of its residents.
In a detailed report handed to Ghana's Foreign Minister Alhaji Mohammed Mumuni in Nigeria, two persons, one Captain Taylor and Gambian resident, Laminu Tunkara must be hunted and prosecuted for their role in the murders.
The two allegedly lured the victims from Senegal to Gambia with the promise of providing a vessel to ferry them to Europe, but that turned out to be a scam.
The stranded victims were arrested, later released but were found dead in the Gambian forest in a murder suspected to have been carried out by some gang element.
The committee has recommended the Gambian government pays compensation to the families of the victims. The two governments must however agree on the amount to be paid.
The bodies are to be exhumed and given a befitting burial in their native countries.
Ghana's Interior Minister Cletus Avoka told Joy News he is satisfied with the recommendations even though there are still some unanswered questions.
According to the Minister, the Gambian government has expressed reservations over payment of compensation claiming that that will amount to complicity in the murders.
Story by Nathan Gadugah/Myjoyonline