Smaller parties won't receive state funding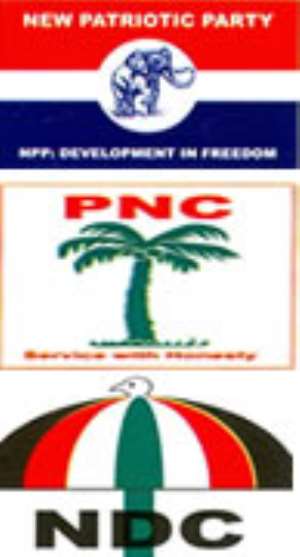 The Electoral Commission (EC) says only political parties which obtained one per cent in the previous elections can access the new enhanced public support to political parties fund.
Dr Kwadwo Afari-Gyan, chairman of the E.C.; who announced this in Accra Wednesday, explained that the Fund, which would be drawn from state and public contributions, would be given out in kind in the form of computers, office accommodation and other logistics.
At a meeting of the E.C. and members of the Ghana Anti­-Corruption Coalition to deliberate on how to make political parties accountable in their finances, Dr Afari-Gyan said adherence to strict financial reporting standards was necessary for political parties to .benefit from the enhanced fund.
He said the Commission was engaging political parties to fashion out a standard procedure in the presentation of their expenditure returns to the Commission.
That, he said, was to ensure transparency and accountability in the financial documentations of the parties.
The E.C Chairman said the Commission was concerned about other forms of corruption contending that "if media houses perpetually give out false information, especially electoral results, they are engaged in corruption because that is intended to influence the outcome of results."
Dr Afari-Gyan called for a second look at the laws governing political parties financing, adding that "under the current legislation only political parties are required to declare their sources of income and expenditure, leaving out the candi­dates".
Dr Afari-Gyan said the electoral laws prohibited foreigners from con­tributing to political parties financing and wondered whether that was the case, stressing that with solid legal frame work and Freedom of Informa­tion Bill, the media would be able to dig out and expose corruption regard­ing political party financing.
The Chairman of the Ghana Anti-Corruption Coalition, Reverend Dr Fred Deegbe said the organisation would continue to engage the EC in ensuring transparency and account­ability.
This, he said, was necessary to ensure that "our democracy is not for sale to the highest bidder and must reflect the actual will of the elector­ate".
The General Secretary of the Ghana Journalists Association, Mr Bright Blewu, a member of the Coalition reiterated the need for the speedy passage of the Free­dom of Information Bill into law to en­able the media scrutinise democratic in­stitutions.