Weep not, Uncle Nyantakyi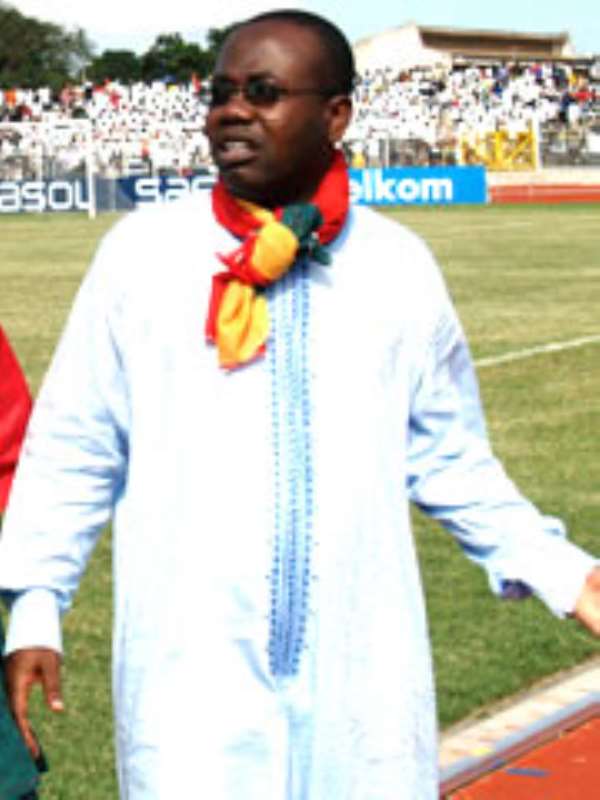 Kwesi Nyantakyi, GFA boss
I tried stepping into the shoes to Kwesi Nyantakyi, the President of the Ghana Football Association (GFA) to experience the turmoil that was going through his mind as he could see the league he presides over losing steam and collapsing before his eyes.
Mr Nyantakyi could not hold back his anguish, embarrassment and disappointment at the Ghanaian attitude of rejecting the local league as -against the total embrace of the European, especially the English football league, system.
The reasons are many. One of them, according to Mr Nyantakyi, is the local media factor which he sees as a major culprit in this national scandal. He thinks the local media's excessive focus on the European leagues has contributed immensely in diverting attention from the local league. That may be partly true, since the media only mirror what society is.
We do not expect the media to act differently in a country where nothing local is of any value, while everything foreign is adored and revered. What Mr Nyantakyi sees as virtual rejection of the local league by Ghanaians goes beyond that. It is a total rejection of ourselves. At the core of that misfortune is what is called inferiority complex - a complex that has gripped us with embarrassing and devastating consequences without our realising it.
Mr Nyantakyi should try to find out what• respect a league will have or what attraction it will hold when it parades clubs with foreign names. Take our league table and you will be wondering whether you are seeing a local league table or a foreign one.
Why should we take pride in having names like Chelsea and Arsenal on our league table when the average Englishman will not spare a second to think about any of our football clubs? This is where mental slavery has brought us. We have lost interest in our local names and we think we can gain acceptance when we make mockery of ourselves by imitating foreign titles.
We are already aware of how obsessed we are with foreign foods, clothing, names, accents and mannerisms, music, in fact everything foreign. But this latest craze of naming local clubs after foreign teams has propelled us to a higher plane of subservience.
Apart from these psychological barriers to development, our football clubs are not organised on professional lines. Our local teams are treated like private properties without any accountability.
Which of the clubs can point at an edifice and call it as its office and club house, where supporters can meet and take serious decisions? Show me a club that can point at a well-built training ground, let alone a stadium. Show me a shop where one can walk in confidently to purchase souvenir items of even Asante Kotoko or Hearts of Oak, the two top clubs in the country.
In Europe, the clubs we admire so much are institutions that are managed professionally and whose support base is solid. Their managers are given the free hand to operate and take the glory when there is success or the shame and dismissal when it is the other way round.
Here, things are done at the whims and caprices of a few individuals. Club expenses are paid from the pockets of individuals whose words are commands.
Another problem is the type of places we call stadiums. If you immediately switch to a local station to watch a local league match after watching a European league match, you will be wondering whether we belong to this same planet. A bushy pitch with a wire fence at best and as would be expected, a few scattered spectators. Where is the attraction?
Our league itself is not competitive and most results are predictable. The FA members are mostly club owners and so conflict of interest and manipulations are unnecessarily rampant, to throw matches this way or that way.
Several things were done in the past to ensure that it was either Kotoko or Hearts of Oak that should win the league. The other clubs are, therefore, mere participants to make the numbers. With that competitive edge taken out of the league, the smaller clubs find it difficult to invest in the game, while the big ones do not overstretch themselves to elevate their game.
Television coverage of matches here is appalling. With one or two cameras swinging from left to right, viewers are given very little to be excited about.
In the past, we took everything for granted because there was no room for choice.
Technology has caught up with us and given us the freedom to choose. It has also exposed our inadequacies and limitations.
I do not have a problem with those who get glued to the TV sets to watch foreign matches.
The world is a global village and we must enjoy to good things that phenomenon offers. I am, however, worried about the fanaticism which is emerging in our support for these foreign clubs.
I do not think the English, the French, the Italians or the Germans will recognise our support for their idol clubs. Those commentators who make those loud noises on the radio stations should know that nobody in London, Manchester or Liverpool is interested in them. If there should be any interest, it will be disdain and scorn for a people who cannot dream big about themselves.
It is, therefore, important that we keep reminding ourselves that no matter how hoarse we shout cheering Chelsea, Liverpool or Manchester United, the only league we have is our own and the earlier we accept this fact and approach the organisation with a professional touch, the better.
Mr Nyantakyi's lamentations will not change things unless we adopt pragmatic measures to improve upon the quality of our league. The FA must begin to realise that its obsession with foreign, white-skinned coaches has its serious psychological effects on the local league. It keeps telling Ghanaians that they are not up to the standard. Consequently, they will take solace in the foreign leagues.
The FA must inject discipline into the league and make it more competitive so that until the last match is played, predicting the league winner will remain a difficult task. All the clubs must be given equal opportunities to participate and progress in the league. That also means the standard of officiating must improve significantly.
Adopting foreign names only reminds us of our colonial past and reduces our dignity as a sovereign people who should cherish what belongs to us. It 'is now a common sight to see the jerseys of some foreign clubs with the names of their popular players embossed on them being sold on the streets of Accra and other towns. I have even seen other souvenir items, including boxes of tissue paper in the colours of Chelsea, Liverpool, Manchester United and others being sold here.
In a way, it shows that we are also very global. But seriously speaking, over-indulgence in these things does not create any positive image for us but rather makes it obvious that, after all, we have accepted our fate us inferior specimens of the human race.
Credit: Kofi Akordor
[email protected] kojiakordor.blogspot.com