Size of Mills' UK entourage does not matter -Ayariga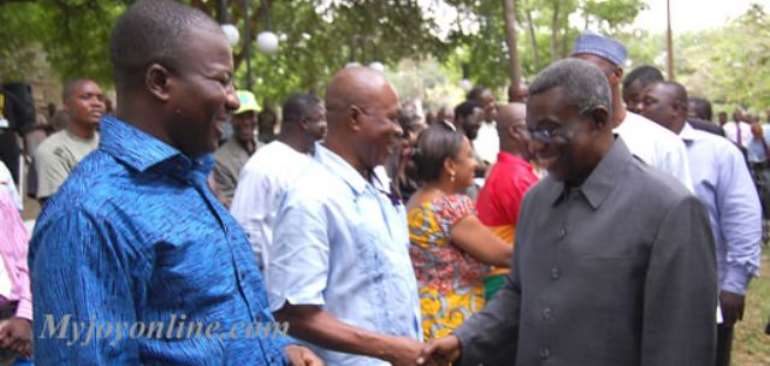 Presidential Spokesperson Mahama Ayariga says the number of people who travelled with President J.E.A. Mills on his trip to the United Kingdom last week does not really matter.
What matters, he said, are the issues of economic recovery, education, health care among others which dominated discussions on the trip.
"This was a modestly-sized (delegation) and so I think that the effort to make the size a major issue and distract from the main issues which are the health care issues, educational issues, issues of economic recovery and issues of fighting crime that dominated discussions are things that we should not distract from. Let us focus on the main issues," Mr. Ayariga explained.
'Just to set the records straight, are you able to tell us the exact number,' Joy FM's Super Morning Show host Kojo Oppong-Nkrumah asked, to which Mr. Ayariga responded; "I'm able to tell you that it was a very small-sized delegation,"
"I am quite surprised by the amount of energy and effort that is going into making the size of the president's team an issue in this particular trip considering how important issues of the economy are, issues of education and how successful the discussions around these issues have been."
The Presidential Spokesperson said the main government delegation included the president and his wife; Foreign Affairs Minister, Alhaji Mohammed Mumuni; the Minister for Trade, Ms Hannah Tetteh; a Deputy Minister for Energy; the Finance Minister; Mahama Ayariga himself; the president's press secretary; and Communications Director at the presidency, Koku Anyidoho.
"There were others that would normally travel with the president such as his security detail. The rest really were members of the media... The issues about numbers for me is unimportant.
"I will avoid any effort to be distracted to divert attention and focus unnecessarily on what could have been the size of the government delegation," he emphasised.
Mr. Ayariga reiterated comments he made early on that a big chunk of the cost incurred during the trip was borne by the British Government.
Many, particularly critics of the government, have quoted various figures as the size of the delegation that undertook a three-day official visit to the UK, and concluded that the NDC while in opposition, regularly criticised and accused former President J.A. Kufuor of travelling with huge delegations at the expense of the state.
Now in government, they claim the NDC will have to eat back its words for doing things they spoke against.
Story by Malik Abass Daabu/Myjoyonline