Educate your children, Vice President urges Muslim parents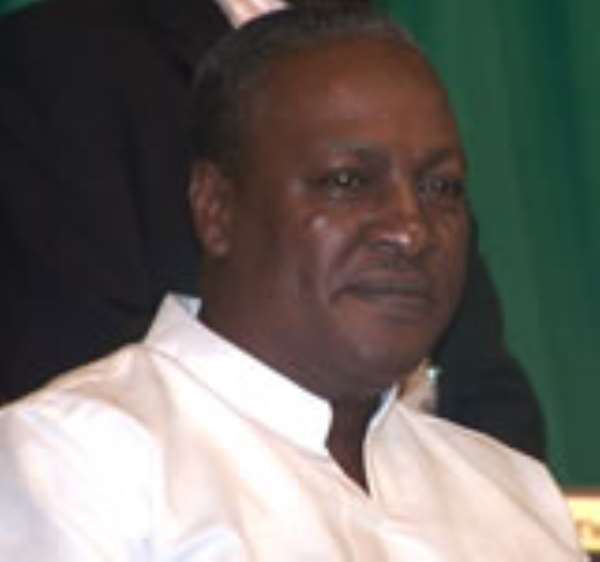 Vice President, Mr John Dramani Mahama
Kumasi, May 10, GNA – The Vice President, Mr John Dramani Mahama, has made a passionate appeal to Muslim parents to consider the education of their children as their priority.
He said education was the only way to eliminate poverty and ignorance in the Upper West, Upper East and Northern Regions (the three northern regions) and other Zongo communities in the country.
Mr. Mahama made the appeal at separate meetings with zongo chiefs and Muslim leaders in Old Tafo zongo, Ayigya zongo and Asawase zongo all in Kumasi on Sunday.
The Vice President visited the communities to thank the leaders and the people for supporting the NDC in Election 2008.
Mr. Mahama said government would revive the Islamic Education Unit and do everything possible to improve education in zongo communities and the three northern regions.
He said the Youth in Agriculture programme, which was going to be introduced by government, aimed at generating employment for the youth and increasing food production in order to reduce the importation of basic food commodities into the country.
Mr. Mahama called for unity among all Ghanaians now that the elections were over, to speed up socio-economic development of the nation.
He said government was initiating adequate measures to resuscitate the economy to be able to honour all the promises made during the campaign period.
The Vice President said government was also working hard to restructure the operations of the Hajj Committee to prevent the problems associated with the pilgrimage.
Mr Mahama advised all prospective pilgrims to organise themselves early to enable the Committee facilitate the processes to avoid disappointments.
He said government would ensure fair distribution of the national cake and urged zongo communities to support the administration to achieve its aim of ensuring speedy development of the country.
GNA