Multiple Accident On Motorway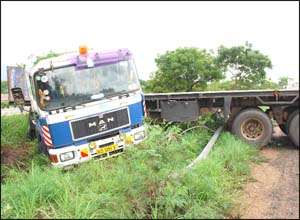 The Forty-Footer articulator truck THE DRIVER of a forty-footer articulator truck, one of three vehicles involved in an accident on the Accra-Tema motorway on Wednesday has told DAILY GUIDE that lives would have been lost, had he not quickly stepped on his brakes. No one was injured in the accident.
Speaking to this paper moments later, 51-year old Kwaku Tumtou, driver of truck with registration number AS 1251 V said he was travelling to Tema from Accra where he was supposed to convey a load when the incident occurred.
He explained that it had started raining before he hit the motorway and so was very careful when he reached the Accra end. He continued that he was actually driving in the outer lane when all of a sudden a private car whose brand and number he could not recollect, suddenly overtook another car and quickly moved in front of his truck.  
"At this point I realized that the only thing to do to save lives was to step on my brakes which I did and finally veered of the road into a ditch in the middle lane of the motorway" he stated.
He noted that the car which caused the accident drove off and did not even stop to find out if he and his mate were safe.
Sergeant Abraham Nuetey of the Airport MTTU told DAILY GUIDE that his office was informed of the accident adding that he and some personnel quickly moved through dense traffic around the Accra Shopping Mall to the scene to try and get the victims to the hospital, if necessary.  
He explained that the other two vehicles with registration number GR 2692-09, a Kia and GT 3257-09, a Spinta were also involved in a separate accident shortly after the veering away from the truck. He said the Spinta which was driving from Accra to Tema was forced to avoid hitting the truck which had its rear in the road and also ended up in the ditch.
The Kia was also travelling from the same direction but the driver could not control the car due to the slippery nature of the road and ended up hitting the rear of the Spinta.
Police men had to control the heavy traffic caused by the accidents to make way for motorists travelling to Tema.
From Razak Mardorgyz Abubakar, Tema