Mills' man gets nod, finally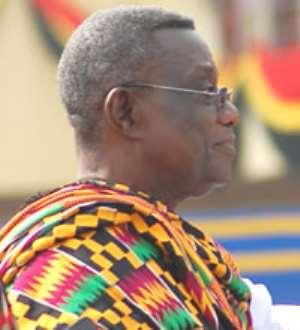 President Mills
President Mills' nominee for District Chief Executive for Atebubu Amanten, Sanja Nanja has finally been confirmed.
Mr. Nanja was confirmed in the second round of voting Thursday after obtaining 26 votes, with 5 voting against him.
He failed to garner the required number of votes the first time 10 days ago.
His nomination was immersed in deep controversy as the traditional council of the area opposed him on the basis that he is not an indigenous son of the area.
The Omanhene of Atebubu, Nana Owusu Acheaw Brempong vowed to go on a hunger strike if the nominee was not withdrawn.
When that appeared not to be working, he vowed bloodshed if Mr. Nanja was confirmed.
The threats appeared to have some effect as some of the assembly members were cowed into rejecting the president's nominee.
He polled 19 out of 32 votes in the first round of voting, falling short by just two votes.
It however took the intervention of party big wigs of the ruling National Democratic Congress for Mr. Nanja to sail through at the second instance.
At Thursday's voting, the entire Brong Ahafo regional executive of the NDC, including the Regional Minister and his deputy were present to observe the ballot.
Mr. Nanja told Joy News immediately after his confirmation that he would work hard to reconcile the various factions.
According to him, his immediate task would be to court the support of the traditional leaders who vehemently opposed his nomination.
While Mr. Sanja is extending an olive branch, Nana Acheaw Brempong says he will not recognise the DCE.
The chief told Joy News some of his subjects were assaulted by security personnel in the area following their objection to Nanja's nomination.
But it was not only his subjects who were assaulted. One of the assembly members who apparently did not vote for Mr. Nanja was assaulted by persons believed to be supporters of the DEC.
Asamoah Mensah said he was beaten up by a group of people who accused him of opposing the confirmation of Nanja.
He said he lost his cell phone as well as GHc30 that was given to him for transportation, in the ensuing scuffle.
Luv FM's Elton John Brobbey reported that a number of assembly members also claimed that those who voted to confirm the nominee were paid GHc500 each.
They alleged paid members of the assembly were camped in Sunyani and came to the voting centre in a hired vehicle.
John Brobbey said the about 26 members sat separated from their dissenting colleagues in the auditorium where the voting took place.
According to Brobbey, the dissenting voters accused the Electoral Commission officer who supervised the process of adopting questionable methods in counting the ballots.
Not only were the 'opposition' assembly members prevented from monitoring the counting, they said the votes were sorted out by the BA Regional Organiser of the NDC.
Story by Malik Abass Daabu/Myjoyonline