Wildfire nearing California town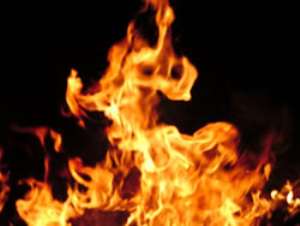 Thousands of people in California are leaving their homes as a wildfire threatens the town of Santa Barbara.
The rapidly moving blaze has burned more than 500 acres, leading California Governor Arnold Schwarzenegger to declare a state of emergency.
Some 13,000 people have been issued evacuation orders as the blaze comes perilously close to the town centre.
The blaze is being investigated as possible arson, and three firefighters are in hospital with injuries.
Santa Barbara, with its idyllic climate and lush countryside, is often referred to as the American Riviera.
But in the last 24 hours the seaside town has been engulfed by fire.
TV pictures show flames engulfing several large hillside properties in the exclusive region.
US media reports at least 20 structures have been destroyed and some 2,000 homes are threatened.
'Extreme weather'
Around 1,000 firefighters are tackling the blaze, which has been fanned by record temperatures and strong winds blowing at speeds of up to 50mph (80km/h).
"We are having very extreme weather," Santa Barbara Fire Captain David Sadecki said.
"The fire is moving from the north to the south and it's moving into the neighbourhoods."
A spokesman for the Santa Barbara County Sheriff's Department said 5,430 homes were under mandatory evacuation.
The estimated population of those homes was 13,575 people, the Associated Press reported.
In declaring a state of emergency, Mr Schwarzenegger has released funds to pay for the fire fighting effort.
Weather forecasters are warning of more strong winds and it may take several days to bring the blaze under control.