I declined Mills' offer to serve as minister -Asiedu-Nketia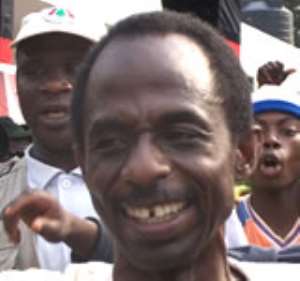 Asiedu Nketia comments on the offer the President offered him
The General Secretary of the ruling National Democratic Congress, (NDC) Johnson Asiedu Nketia has revealed that although he was "offered an opportunity" to serve in the Mills government, he turned it down.
Mr Asiedu-Nketia maintained he had to decline President Mills' offer to enable him focus on the challenging job of a general secretary.
This, according to him, was a necessary balancing act as the party laces its boots for another win in the 2012 elections.
"I was thankful to His Excellency that I was offered the opportunity to serve in the capacity of a minister but he also agreed with the point I made that if you're eating kenkey don't forget about the corn-mill.
"I believe that if the position of the general secretary is well managed and the party is built and run better I don't think anybody will be rushing from being a general secretary to take a ministerial appointment," he stressed.
Mr Asiedu-Nketia, whose pronouncements against some ministers in the then ruling New Patriotic Party during the run-up to the December polls, sparked a furore among the NPP officials, said President Mills threw him the opportunity to serve anywhere in the new administration.
He dismissed suggestions that his brief "silence" on issues during the first few months of the new administration was because he had been denied a place to serve in the government.
Mr Asiedu-Nketia was briefly missing in action after the 2008 elections and was speculated to have "abandoned" the party for allegedly being ignored by President Mills.
The NDC general secretary hinted he would ensure his party retains power in the next election to better improve the standards of living of Ghanaians.
Reacting to comments by some grassroots supporters that the party had ignored them after winning the elections, Mr Asiedu-Nketia said the party has embarked on a programme to reorganize its 22000 branches nationwide.
He also hinted that the NDC would do a massive retouch of its women and youth wings to ensure they work more efficiently.
Story by Fiifi Koomson/Myjoyonline