WOMAN MP FOR WORLD NOBEL PEACE CONFERENCE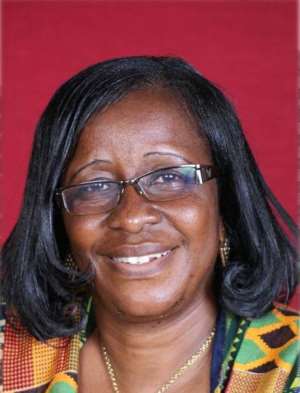 Honourable Beatrice Bernice Boateng, NPP MP for New Juaben South/Koforidua
The Nobel Women's Initiative (NWI) has invited Honourable Beatrice Bernice Boateng, NPP MP for New Juaben South/Koforidua to participate in "Women Redefining Democracy for Peace, Justice and Equality Conference|" to be held from May 10th to the 12th, 2009, in Antigua, Guatemala.
Honourable Boateng is expected to participate as well as share her experiences in creating a more peaceful, just world for women worldwide.
This three-day international strategy meeting will bring together 80-90 women's rights activists, researchers, communications experts, politicians and key policy-makers from national and international institutions – alongside Nobel Laureates –to examine the challenges of democracy, democratization and democratic movements through the lens of women's rights and peace around the world. Specific themes to be discussed include issues of conflict, post-conflict and militarization, violence against women (from state repression to domestic violence), the role of the judiciary, corruption, systemic discrimination (with a particular focus on indigenous women), and women's voice, and political participation and representation.
Launched in 2006, the Nobel Women's Initiative is a strategic tool of the women Nobel
Peace Laureates to use the visibility and prestige of the Nobel Prize to promote, spotlight,
and amplify the work of women's rights activists, researchers, and organizations
worldwide. In the past two years, the Nobel Laureates have brought attention to urgent
issues of Iran-US tensions, women's rights in Iran, climate crisis, the protracted Burmese
and Sudanese conflicts – among many others – using the print media, radio, internet and
engaging with world leaders and activists in public fora.
Participants are to join six Nobel Peace Laureates Jody Williams, Shirin Ebadi, Wangari Maathai, Rigoberta Menchú Tum, Betty Williams and Mairead Corrigan Maguire to join them to examine democratic movements through the lens of women's rights and peace, in order to understand, acknowledge and honor how women around the Globe are resisting violence, authoritarianism, corruption and weakened formal democracies; find the common threads in these forms of resistance so as to unite forces and be more efficient and effective; explore what role the international community needs to play in order to amplify and strengthen integrated women's rights approaches to security, access to justice; participatory democracy and finally; determine ways in which Nobel Laureates can use their visibility and access to power to advance the recommendations that come out of this meeting.
Credit: Leslie Kotey Nikoi (UK)