School Feeding: children eat under unhygienic conditions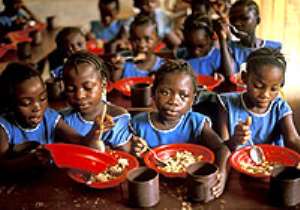 About 61 per cent of schools covered by the Ghana School Feeding Programme (GSFP) lacks good kitchen structures and this is adversely affecting the maintenance of hygienic environment for food preparation.
These came to light at the launch of the second participatory monitoring and evaluation (PM&E) report on the,'Challenges of Institutional Collaboration', an assessment of the state of the complementary services in the GSFP for 2008.
The 44-page independent report facilitated by SEND-Ghana, a civil society organisation, covered 23 beneficiary schools and communities in 21 districts spanning Greater Accra, Northern, Upper East and West regions hooked to the programme.
Seventy-eight per cent of the beneficiary schools, according to the report, did not have adequate stock of kitchenware, especially plates and cups and as a result, pupils were made to eat in turns.
This, the report said prolonged lunch breaks in the affected beneficiary schools, thereby reducing instructional hours with negative effects on the quality of education.
Cooks, operating in about 22 per cent of beneficiary schools, had no formal training in nutrition and hygiene, thus sacrificing basic health standards in the preparation and serving of food to the pupils.

It said 70 per cent of beneficiary schools had not received training in the maintenance of water and sanitation facilities.
On agricultural services, the re­port stated that contrary to expec­tations, foodstuffs for the programme were obtained from farmers outside the beneficiary dis­tricts, resulting in apathy in benefi­ciary communities.
The report also revealed that 30 percent of beneficiary schools had no equipment for co-curricular ac­tivities as planned. "
The report recommended the in­volvement of local actors in the for­mulation of the annual plans of the programme to reflect local realities and stressed the need for innovative ways of strengthening col­laboration between it (GSFP) and the Metropolitan, Municipal and District Assemblies (MMDAs).
It also recommended that to ensure full complement of ser­vices for beneficiary schools, MMDAs and all decentralised directorates should prioritise the beneficiary schools as model schools.
The Country Director of SEND-Ghana, Samuel Zan Akologo, said the report was in line with CSO's watchdog role and also geared towards the attainment of the GSFP.