Dr. Nyaho Tamakloe calls for review of assets of former presidents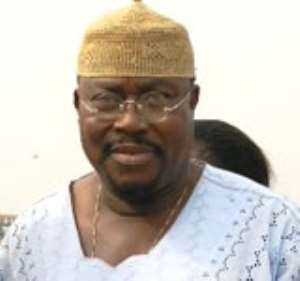 Founding member of the NPP and former Ambassador to Serbia and Montenegro Dr. Nyaho Nyaho Tamakloe
Founding member of the NPP and former Ambassador to Serbia and Montenegro Dr. Nyaho Nyaho Tamakloe, is calling on government to establish a body that would investigate living former presidents regarding their assets and acquisitions after the end of their tenure.
He intimates that the initiative, which would involve the establishment of a commission of enquiry, is crucial and will aid government in its efforts at strengthening the probity and accountability agenda of the nation.
Speaking to Citi News, Dr. Nyaho Nyaho Tamakloe noted that his call stems from recent allegations the former president Rawlings has made on members of the past New Patriotic Party (NPP) administration.
He alleges that former President Rawlings acquired a chain of properties illegally during his time in office and therefore has no moral right to do so.
He is therefore challenging the former President Rawlings to publicly declare how he acquired his wealth making reference to such instances in past governments since independence.
"We've had leaders in this country, J.B Danquah had nothing, Kwame Nkrumah had nothing, Obetsebi Lamptey had nothing, William Ofori Attah had nothing and these can be checked easily. He is now with us in our time. He should come out to tell the people of Ghana clearly how he came by all these properties that he has," he said.
"He has amassed wealth and we know. He has bank accounts outside and we know, he got a mansion in Europe, we know. He has a mansion at Ajyeringano, we know. These are facts so if he won't shut up then he should come out."
"I believe it is an initiative that should be stretched to all other presidents including himself, he should be started with. They can go on with President Kufuor as well, anyone who has been Head of State before and is still alive but he Rawlings in particular", he noted.
According to Dr. Tamakloe, Ghanaians are fed up with former President Rawlings' pretence and lies about not having properties and stated that "we want to know how he came by those properties."
Spokesperson for the former first family, Kofi Adams however in an interview on the Citi Breakfast Show said Dr. Tamakloe's assertion make no sense because if NPP officials who sold state properties among them have not been questioned, it was not right for ex-President Rawlings, who has a few properties in Ghana, to be questioned.
He explained that the property at Ajyeringano that Dr. Tamakloe mentioned was not state property and stated that it took about eight years under ex-President Kufuor's regime to complete the building.
"That property has taken over eight years to complete and the property was being developed under the tenure of NPP. Everybody knows that it took them over eight years to complete that building so it is no news to tell people that they have a property at Ajyeringano. It is no news to tell people that former President Rawlings has a property near Segakope," he said.
"But to continue lying that he has properties all around the world, why couldn't they publish a single account that they claim he has," he asked.
According to him, the only time that former President Rawlings tried to open an account overseas was when he started a project with UN and it was realized that he was "a clean head of state who did not have any account anywhere before they could allow him to open an account to enable due payment from works that he did for both UN and also with the forum to be paid through such an account."