May 4, 2009
|
Politics
Economic Advisory Council meets today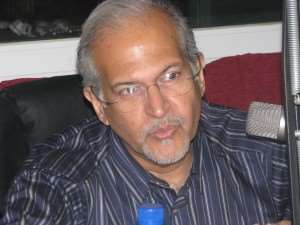 President John Mills' 10-man Economic Advisory Council (EAC) will hold its maiden meeting on May 4 2009.
The advisory council - which will be working on pro bono bases - has a number of the most respected economic brains in the country, was set up owing to the challenges presented by the global economic recession, coupled with Ghana's ailing economy.
Citi News sources say, at the first meeting, the council will map out strategies to make the team relevant to deliver on its mandate and will also likely brainstorm on how to reduce the effect of the raging global economic crises on the nation's economy.
The team, which has Dr. Gobind Nankani as its Chairperson, would be advising the President on key economic policy issues and policy options in managing domestic economic challenges, and maximizing the full potential of existing opportunities.
It is understood that the EAC in its work shall collaborate closely with existing institutions for economic policy formulation, development and implementation.
Other members of the team include the Chief of the Asogli state, Togbe Afede –the 14th, Mr. Ishmael Yamson, Mr. Fred Ohene Kena and the President's own brother, Dr. Cadman Atta Mills.
The rest include Prof. K. N. Afful, Dr. Emmanuel Ablo, Mr. Paa Kwesi Amissah– Arthur, Dr. K. Y. Amoako and Mr. Joel Hyde.
Dr. Gobind Nankani who is expected to chair the maiden meeting is a Ghanaian native, and was recently appointed President of the Global Development Network (GDN) in 2007.
Dr. Nankani, a Development Economist, has had his name widely speculated as the man to replace current Bank of Ghana Boss Dr. Paul Acquah as governor, and has had a distinguished 30 year career at the World Bank, holding management positions in various regions and sectors across the Bank. ]
Prior to joining GDN, Dr. Nankani served as the Vice President for the Africa region between 2004 and 2006.