'Father' opposes Madonna adoption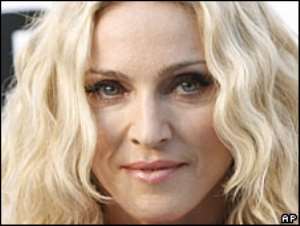 Madonna has already adopted a boy, David, from Malawi
The man believed to be the father of the Malawian child who pop star Madonna wants to adopt has said that he opposes the move.
James Kambewa told a US TV station that he would be able to look after four year-old Chifundo "Mercy" James, even though he had never met her.
He said that he wanted the little girl to be raised "as a Malawian".
Madonna's appeal against a court ruling that denied her request to adopt the child is to be heard on Monday.
She has already adopted a boy, David, from Malawi.
'Capable'
Mr Kambewa told CBS television's "The Early Show" that he wore a necklace bearing his daughter's name around his neck, even though he had never seen her in person.
"I want to take care of her, and I'm capable to take care of my baby," he said. "Mercy, she is a Malawian - so need her to grow as a Malawian as well with our culture."
A spokeswoman for Madonna said that she did not know if Mr Kambewa was Mercy's father.
"All I know is that Mercy has been in an orphanage since the day she was born," Liz Rosenberg said.
Last month Madonna's application to adopt Mercy was rejected because of a requirement that prospective parents be resident in the southern African state for 18 to 24 months.