AMA Rids Accra Of Political Billboards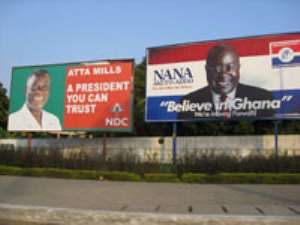 The Accra Metropolitan Assembly, AMA would embark on an exercise to remove billboards of political parties and other paraphernalia in the metropolis on April 30. This follows failure by the political parties to comply with an earlier directive from the assembly which expires on April 30, 2009. The AMA says it will surcharge the parties with the cost of removal. However some of the political parties are accusing the AMA of not officially writing to them on the directive, a claim which the Assembly has denied.
The directive also targeted advertisers who have mounted unauthorized billboards, fixtures, branded and hanged banners. Those indebted to the assembly were also to settle their arrears by today. Companies who have failed to settle their debts risks being blacklisted. The AMA says the new measures aim at ensuring sanity in the Outdoor Advertising Industry. Public Relations Officer of the AMA, Frank Asante tells Citi News most of these companies do not follow due process in mounting the billboards and as such will face the needed sanctions.