NDC And NPP Are Taking Ghanaians For Granted-Ogbame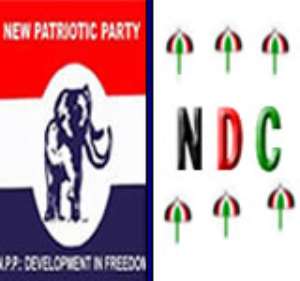 The managing editor of the "Gye Nyame Concord" newspaper, Alfred Ogbamey says politicians, especially in the NPP and the NDC, have taken Ghanaians for granted, manipulating them like kids who do not know their "left from right". In an interview on Peace FM's morning show "Kokrokoo" today Mr. Ogbamey said, "They always come out with propaganda messages to deceive us in order to gain our vote, but after gaining power their actions become different".
He added, "What they do after gaining power is always different from what they promise." He was most critical of the NDC saying, "NDC is seeking to win a propaganda war." He expressed his disappointment in the NDC government and said Ghana needs leadership and direction, not the kind of leadership the current administration is portraying. According to him, "They just get up and make rules as if there is no constitution in the country".
He said the NDC should be reminded that there are laws governing this country. Mr. Ogbamey was speaking in reaction to the fiery warning by the Deputy Minister of Information, Samuel Okudzeto-Ablakwa at a press conference that the immediate past government officials should return government vehicles in their possession or else they will face punitive sanctions.
He said added that "there are many issues of more importance concerning our national ecnomy which should be the foucs of their attention rather than the snatching of cars".
By: John Nyaaba