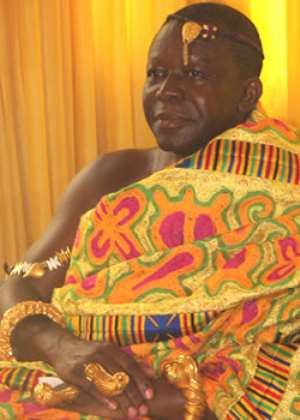 The Asantene, Otumfuo Osei Tutu the Second, has celebrated his tenth anniversary.
It has been a memorable ten years.
He has settled many outstanding chieftaincy disputes in Ashanti and thus brought peace to many communities.
He has established an "Education Fund" that has helped many people to get education.
He has obtained World Bank Funding to provide amenities to many communities and thus helped to improve the lives of many.
He has been an invaluable part of the herculean effort to resolve the Dagbon crisis.
He has given priceless advice to Presidents.
During the celebrations, a symposium organized at KNUST, brought together an impressive array of former World leaders to discuss leadership. While former President Rawlings went overboard a bit in his Presentation, it was still a very good show.
In short, this King has been peerless. He is one of the most important reasons why so many in our country still think chieftaincy is such an important institution. His reign recalls the era of the great kings of Africa. Amongst these were Mansa Musa and Askia, Chaka and Digiswayo.
It is altogether very appropriate that so many leaders from far and near took the opportunity to come and help Otumfuo celebrate. Former President Festus Mogai, former President Olusegun Obasanjo of Nigeria, former President Tejan Kaba of Sierra Leone and former Prime Minister Jose Maria Asner of Spain. These were of course joined by traditional rulers from far and near.
It was a celebration for the ages. My congratulations to the Asantehene and all who were involved in it.
Chieftaincy has had a turbulent time in our nation's history.
The colonialists began by undermining our chiefs and were subtle measures failed, imprisoning or killing them. That is how King Prempeh the first, ended up in exile on Seycheles Island for about a quarter of a century.
Of course, our post-independent governments took over where the colonialists left off. From Nkrumah to very recently, they have destooled chiefs and where none existed, sowed confusion. Indeed, the dirty fingerprints of a number of our governments can be found all over the Dagbon crisis.
Despite all these challenges, chieftaincy just refused to die.
Today, no other institution is held in higher esteem than chieftaincy. President visiting local areas routinely choose durbars of chiefs and people to announce new initiatives because that is where the people go to.
Even when Ghanaians slip the bounds of our borders and thus need not be under the sway of traditional rulers, they invent them. From Atlanta to Beijing, from Bathurst to Zanzibar, they have enstooled in place of hereditary chiefs, elected chiefs. To underlie their respect for tradition, often, they send these elected chiefs to swear allegiances to their hereditary chiefs here at home. These elected chiefs while earning a living by working, find time to settle family disputes, reconcile estranged friends and assist bereaved families. In short, far far away from home, they are the glue that holds many of our communities together. That is an enduring testament to the value of chieftaincy.
The question of how an institution so ancient in an era so modern is one that I will leave to the experts but I am sure glad there are great chiefs, like Otumfuo and a few others.
To be candid though, while chieftaincy has been worth its weight in gold, it has not been a perfect institution.
We know that many of the land disputes in Accra and some big cities arise from, TAFRAKYE, unscrupulous chiefs who sell land to multiple buyers.
We know that most of our chieftaincy disputes are instigated by ambitious aspirants to stools who would stop at nothing to realize their ambition. The forces they unleash can cause violence, suffering and sometimes, unfortunately, death. Today names like Anlo, Bawku, Sefwi-Wiawso, Ga Mashie and Dagbon remind us that despite the undoubted virtues of chieftaincy, it has its problems—major problems.
We know that some chiefs sell lands and spend all the proceeds on insignificant things instead of providing for future generations of their traditional areas or educating the youth.
But even while we acknowledge the imperfections of chieftaincy, we must, because of its undoubted value, find ways of strengthening and modernizing the institution.
First, we must document the basic facts of succession for all of our major kingships. This will minimize the disagreements and disputes that come during the death of incumbent chiefs and the enstoolment of new ones.
Second, we must, through a chieftaincy law that will have major imput from chiefs, have a time-limit for choosing new chiefs when stools become vacant.
Third, we must put a time limit on the settlement of chieftaincy disputes.
Fourth, we must stop the fiction that our chiefs are not involved in politics and find ways of involving our traditional rulers in our governance in a more meaningful way. It appears to me that we must amend our constitution to replace ten of the Council of state members who are nominated by the President, with an elected member from the Regional House of Chiefs of each region. In addition to that, the Council should have "ADVICE AND CONSENT" roles in appointment rather than what pertains currently.
Also, we must seek and respect their opinions in selecting District, Municipal and Metropolitan Chief Executives. As events during the last elections and now during the selection of DCE's are demonstrating, politicians ignore chiefs at their peril.
The Ministry for Chieftaincy established by President Kufuor was a good start in giving priority to chieftaincy in our governance. We must build upon that.
If we make these changes, in honest and transparent partnership with our traditional rulers, chieftaincy will grow from strength to strength and exceptional chiefs, like the Asantehene, will become the norm, rather than the exception.
But we cannot modernize chieftaincy without the help of chiefs. They must insist on accountability and high standards of conduct by their members and lead the debate for modernizing their institution. So far, we are convinced of the good that they can do. Let us work with them to curb their excesses.
Whenever Nananom choose to make public comments, I urge that those comments be constructive. While we know that chiefs are political, they must stay within bounds of decorum when they speak publicly. Their talk and their deeds, must always bring us together rather than pull us apart.
To the Asantehene, congratulations on ten good years. Thanks for reminding us of what is good about our culture. While the last ten years have been an undoubted success, I am sure that even you will admit that they have not been perfect. May the next ten be even better and may your reign be long.
Credit: Arthur Kobina Kennedy
[[email protected]]