Read full text of Deputy Information Minister, Okudzeto Ablakwa's press statement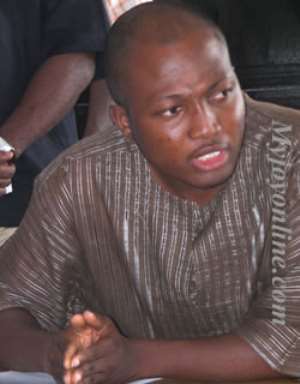 BY SAMUEL OKUDZOTO-ABLAKWA, DEPUTY MINISTER FOR INFORMATION AT A PRESS CONFERENCE ORGANISED BY THE MINISTRY OF INFORMATION ON A NUMBER OF ISSUES
Ladies and gentlemen from the Media,
Good morning and thank you for another opportunity to interact and inform Ghanaians of government's activities and decisions aimed at addressing their concerns and making Ghana a better place to live.
Let me first of all apologise for the inability of my Minister, Mrs. Zita Okaikoi to be here this morning. She's away on another assignment.
Ladies and gentlemen, government is not unaware of the huge expectations of the people; expectations that have been heightened by the lack of improvement in the living conditions of many ordinary Ghanaians over the last eight years of President John Kufuor and his NPP.
Interestingly, the opposition NPP, who were rejected by the people of Ghana at the last election, have still not learnt their lessons and are engaged in their age-old occupation of spreading deliberate falsehood. Quite clearly, they have very little to do and will be spending their time holding press conferences, concocting lies, rehashing the lies and presenting them at one press conference after the other.
As a Government however, we know what our mandate is and we'll not at all be detracted by anybody or group to forget about our promises to the people of Ghana. Irrespective of what some people say, the truth is that after careful evaluation and assembling of all the facts, it has been found that the State of the Ghanaian Economy is not one to be proud of.
The level of economic mismanagement under the Kufuor administration is one not to be envied by any government. Not only was our import cover less than 2 months, and fiscal deficit at over 15%. The Kufuor administration was more than reckless in the handling of the economy resulting in a situation in which by the time President John Mills took over, the country had been badly exposed.
As we have had occasion to state before, the fall in the Ghana Cedi over the last three months is not an isolated occurrence but rather a situation resulting from the policies and actions taken by the Kufuor administration. By December 2008, the new Ghana Cedi had depreciated by 31%. This was in spite of the government's spending of about $1.2 billion to prop up the Ghana Cedi. Inflation also ended the year 2008 at 18.1%.
Ladies and gentlemen, Government has not focussed on debating and commenting on the lies of the NPP because it recognises that it has a more important task of halting the deterioration of the economy. Our prudent management of the economy has led to a slowdown in the rate of increase of inflation as indicated by the Ghana Statistical Service. The execution of the government's budget also indicates an overall narrow budget deficit of 0.9% of GDP in the first quarter of the year, compared to the 1.7% recorded for the first quarter of 2008.
Our prudent management of the economy reflects a serious government that knows what is right and is committed to doing what would bring returns despite the challenges. We are happy to report that government's austerity measures reflected in the prudent use of government funds and avoiding profligate expenditure is paying off.
Only yesterday, President Mills announced a 10-member Economic Advisory Council that will help him address the challenges confronting us. The Council is headed by a former Vice President of the World Bank and currently Director of the London based International Growth Centre- Dr. Gobind Nankani. That is yet another demonstration of this government's commitment to meeting its objective of making Ghana a better place by improving the living conditions of all Ghanaians, make the cost of doing business in Ghana cheaper, and start a process of reducing the gap between the rich and the poor.
Ladies and gentlemen, we have heard on some networks that the opposition NPP is claiming among others, breaches of the Constitution by this government and also, that we are promoting ethnicity.
Is it not strange that the NPP would venture into such areas where its score sheet is obviously not impressive? This government would never promote ethnicity nor encourage it, and even the NPP knows that. If there's one government that can be accused of this act, it is President Kufuor and his administration. And the evidence is there for all to see, not to talk of nepotism and tribalism. In any case, the Mills administration is composed of persons from all regions of Ghana, a feat President Kufuor could not achieve.
Government is warning that it will not countenance any acts that seek to undermine its efforts at building a united Ghana.
Ladies and gentlemen, government finds it unfortunate that a security expert Dr. Kwesi Anning would in furtherance of his political bias and in an attempt to embarrass the Mills administration, make the ridiculous claim of wanting to seek asylum. Quite clearly, the reasons for which he will be seeking the said asylum do not only sound funny, petty and ridiculous but can only be the imagination of a man desirous of finding fault where there's none. And the platform on which he chose to make the claim and its linkage cannot be lost on us.
We wish to assure Dr. Anning that government has no intention of pushing him into exile or to seek asylum and would advise him to report the persons allegedly threatening him to the police. After all, we think that's an advice a security expert should know.
Government has demonstrated that it will not be selective in the application of the law and will continue to guarantee the safety and security of all. We would be the first to admit guilt should we deviate from this, and government is not oblivious of the need to constantly engage the heads of the security agencies in order to improve and strengthen policing and general safety and security.
Ladies and gentlemen, you would realise that Mills administration has refrained from referring Ghanaians to the excesses of the Kufuor administration. We have not reminded Ghanaians of the witch-hunting of the NPP including the dragging of former ministers before the Bureau of National Investigations (BNI), Serious Fraud Office (SFO) among others.
The NPP deliberately sort to denigrate the NDC by arresting its officials like the former Controller and Accountant General and the former GNPC Chief Executive in church, prevented officials from travelling outside of this country and set up phony audit teams to conduct so-called forensic audits, ostensibly to help persecute former officials. Ghanaians are living testimonies to the number of such cases they were able to prosecute after all the embarrassment.
The NPP and its officials fearing that any attempt by government to investigate them would spell doom for a number of their leading members have resorted to deliberate screaming through the media, thinking that will make government stop any such enquiries. This government would not witch-hunt any body, but where there's a witch or witches, they will be hunted. We do not have time to engage in the vindictiveness that characterised the Kufuor administration and relegated the core business of government to the background.
Ladies and gentlemen, sections of the media, aided by the opposition NPP have been exaggerating some isolated vehicle seizures across the country and wants to make it a daily sing-song. What Ghanaians do not know is that, the NPP knowing very well that a number of its officials out of greed and in some cases criminal intentions, 'fled' with government vehicles, has resorted to such media outbursts to prevent government from retrieving them.
While government has had occasion to apologise to some personalities over the unfortunate seizure of their vehicles, we wish to state today that a number of these isolated situations could have been avoided if officials of the previous administration had left the vehicles and other state properties intact.
Ladies and gentlemen, but for the exercise mounted by the security agencies to retrieve state vehicles, NPP officials who drove away a number of vehicles and hid them at various places would not have returned them. Indeed, the presidential candidate of the NPP, Nana Akuffo Addo only returned two official four wheel drive vehicles that were in his possession for more than a year because he realised the security agencies were closing in on him. Did it have to get to that?
Such was the extent of the greed and property-grabbing character of the NPP and its officials that even the former president John Kufuor hijacked official vehicles and motor cycles of the President of the Republic to his house.
A number of vehicles and even motor cycles were 'stolen' and hidden by some former government operatives and were only retrieved after state security agencies and personnel went in search of them.

As we speak, ladies and gentlemen, a number of former operatives of the NPP administration including:
Yaw Buaben Asamoa (the former anti-corruption crusader who later became an aide to Vice President Aliu Mahama),
Rhoderline Baafuor-Gyimah (described as a special assistant to Mrs. Theresa Kufuor),
Dr. Sam Amoo Ghartey (former National Security Coordinator),
Ms. Gloria Akuffo (former Minister for Aviation),
Tommy Amematekpor (described as a Special Aide to John Kufuor),
Nii Ayitey Boafo (said to have been a Special Aide to John Kufuor),
Dr. Gladys Ashitey (a former deputy minister) and a host of others are still in possession of government vehicles. Has anybody chased them to bring those vehicles?
We want to ask the NPP, whether the twin description of gangster-ism and criminality does not best befit these officials and the many others who continue to keep state property illegally?
Even here at the Ministry of Information, former deputy minister Frank Agyekum and a former spokesperson Catherine Afeku now a Member of Parliament are illegally keeping government vehicles. The Chief Director of this Ministry after several requests went unheeded finally handed over the case to the security agencies. That compelled Nibi Ayibonte, also a former spokesperson and Abeiku Dickson, a former special assistant to return their vehicles rather reluctantly.
Clearly the actions of Frank Agyekum, Catherine Afeku and the many others are criminal in nature and we do expect that the security agencies would move in to retrieve the vehicles without any delay.
Ladies and gentlemen, before government is accused of being a part of these criminal acts because it has not moved in to retrieve the cars, I wish to indicate that they have been approached many times and in our usual civil manner of doing things, encouraged them to return the vehicles.
For instance, in the particular case of Frank Agyekum, he wrote to the Chief of Staff requesting to buy a vehicle that was not two years old, contrary to the guidelines set forth by the Kufuor administration itself on the acquisition of official vehicles. Mr. Kwadwo O. Mpiani, Chief of Staff on the 23rd of February 2005 sent a circular to all Ministers of State, Regional Ministers, Chief Directors and Regional Co-ordinators making it clear that vehicles that are less than two years old would no longer be sold to officials who want to acquire their official vehicles.
Indeed, as a co-secretary of the Joint Transition Team, Mr. Agyekum issued a statement that indicated that former officials cannot buy vehicles that are less than two years old. And even though his request was rejected on the above grounds, Frank Agyekum is still keeping the said vehicle, and his continuous possession of the vehicle is illegal and criminal. Yet, he has not been chased or no gang has swarmed him to return the car.
The trend will appear that the former NPP officials and their hangers-on are waiting for the so-called invasion of the security agencies before they return the cars and help them build their non-lethal arsenal of false complaints against the government.
Government wishes to remind all persons still in possession of government vehicles illegally to return them in their own interest. In the particular case of persons who are in possession of vehicles that were not two years old as at the 6th of January 2009, government wishes to remind them that as per the directives previously issued to them, they should return the said vehicles before the end of the week.
Some of the persons who contrary to government's purchase of old vehicle guidelines and the decision of the Joint Transition Team allegedly caused their less than two year old vehicles to be valued and are still in possession of them are:
Cecilia Dapaah, a former minister whose 2008 Peugeot 607 was valued at a paltry 6,510 Ghana Cedis;
Dr. Benjamin Aggrey-Ntim, a former minister also in possession of a 2008 registered Peugeot 607 valued at 13,200 Ghana Cedis; and
Maxwell Kofi Jumah, a former Deputy Minister still keeping a 2007 registered Peugeot 407 valued for him at 5,450 Ghana Cedis;
Others include Godfrey Bayon who is in possession of 2008 registered Peugeot 607, Ofosu Asamoah- a 2007 registered Peugeot 407, Boniface Saddique- a 2008 registered Peugeot 607 and George Hikah Banson- a 2007 registered Peugeot 607.
Ladies and gentlemen, that is not all. But let me say at this stage that, clearly, if we were a government of gangsters and criminals, these persons would have faced gangster wraths by now. It is the hope of government that, the affected persons would respect laid down rules and show greater respect for themselves and tow the respectable examples of Honourable Albert Kan Dapaah, Mr. Osei Asibey Antwi and Kwadwo Afram Asiedu and return the vehicles in their possession.
Government also wants to make it clear that the values placed on the various vehicles by the former officials who want to buy them have been found to be unacceptable. Consequently, the new values calculated by the Official Government Valuer who was sidelined by the intended buyers during the valuation stage, is what will apply in all cases.
Government has also rejected the supposed 30% rebate granted to prospective buyers even after the ridiculous values placed on the vehicles. Apart from persons who have made payments against vehicles that are less than two years old as at 6th January 2009 whose monies would be refunded to them, all other persons are reminded that they'll have to top up their payments where applicable before they can legally take possession of the said cars.
For the avoidance of doubt, the following are persons in possession of government vehicles illegally:
Alhaji Yirimea Awudu Dr. Charles Brempong
Prince Andani Alhassan Christine Churcher
Dr. Gladys Ashitey Nii Ayitey Boafo
William Adjei-Banin Timothy Taafaale Dombo
Ben Brown Padmore Kofi Arthur
Osei Amponsah Alhaji Mohamoud Alhassan
A. M. Shani Mrs. Gladys Asmah
Rhoderline Baafour-Gyimah Patrick Kwadu Amponsem
S. K. Boafo R. K. Poku Kyei
Nana Gabriel Nsiah Nketiah Frederick Anafi
Yaw Buaben Asamoah Kenwuud Nuworsu
Gloria Afua Akuffo Dr. Sam G. Amoo
Charles Brempong-Yeboah Godfrey Bayon
Professor Gyan Baffuor Lt. General J. M. Hamidu (Rtd)
Mr. G. F. Daniel

These are the persons who criminally took away vehicles that are less than two years old, knowing very well that government guidelines are against that
George Banson Joseph Nayan
Abubakar Saddique Boniface Maxwell Jumah
Kwadwo Adjei Darko Esther Obeng Dapaah
Victoria Bright Elizabeth Ohene
Ofosu Asamoah Thomas Broni
Cecilia Dapaah Benjamin Aggrey Ntim
Frederick Opare-Ansah Tommy Amematekpor
Clement Eledi Godfrey Bayon
Ladies and gentlemen, these are the gangsters and criminals and not President Mills and his team. Let me repeat that this government is not at all perturbed by the mounting press conferences that the NPP will be organising.
We remain focused on our core responsibility as a government and the people of Ghana would at the end of our term in 2012, be convinced that this indeed is a country that has become better under the NDC.
Thank you.