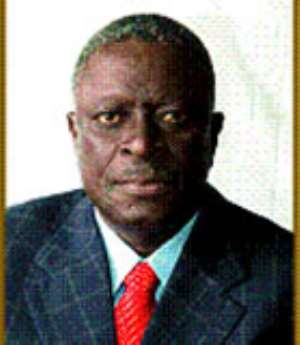 Intelligence gathered by the National Democrat indicates that Mr. P.V. Obeng who was Chairman of the Government's Transition Team and was leading a group to handle matters arising from the final report submitted to President Atta- Mills last month appears to have quit prematurely.
Only last week, P.V was reported in the news leading a team to complete modalities for operationalizing the Savannah Accelerated Development Authority. But in a letter to President Mills cited by this paper, the brainy P.V who served as adviser on Governmental affairs to President Rawlings appears to have been peeved by recent internal developments.
In a letter to President Mills dated 21st April, 2009, he did not only announce the folding up of the work of the 'Residual Transitional Team" but also announced his decision to quit as a result of comments passed by certain personalities about him and his colleagues. The conclusion of his letter reads;
"Your Excellency, with the work done on these two and others, we consider that the time has come for the residual members of the Transitional Team to bring our assignment to a close. This, we believe, will bring relief and satisfaction to all who have expressed some concern about the role of the residual members of the Transitional Team in your young government
We wish to thank you for the opportunity to have been of service to you, your government, the NDC and the country at large. As we leave, we assure you of our loyalty and support whenever you find the need for our services."
In 1996, PV quit his position as adviser to President Rawlings in similar circumstances when he became a target of internal forces he suspected were out to destroy him. For many years, he remained on the political sidelines until last year when he made a full commitment to helping the Atta Mills Presidential campaign.
Contrary to what some people think, our intelligence discovered that he, like some other key figures in the NDC, played a major role in achieving the almost impossible task of returning the NDC to power.
Among other things, this paper's intelligence discovered that he played a key role in preparing the 2008 NDC manifesto. He also played a major role in the activities of the party in the Greater Accra and Ashanti regions in the run up to the December 7 elections last year.
Our intelligence also discovered that PV was part of a small team under John Mahama, then running mate to candidate Mills, which was formed to plot and execute the party's successful campaign in the Ashanti region. The steadfastness of the group prevented the NPP from stealing the verdict of the masses.
After the run-off and since January 7 2009, the respected politician has been helping to develop key policy initiatives for the Mills Administration.
A Marine Engineer by profession, Mr. Obeng served as Chairman of the Committee of PNDC secretaries and was de facto Prime Minister for 11 years. His intellectual brilliance and capacity to devise solutions to problems is legendary.
But Mr. Obeng has been fingered as a member of a so-called gang accused of hi-jacking the Mills presidency. Critics accused him together with the Ahwoi brothers, Ato and Kwabena, Capt (rtd) Kojo. Tsikata, Totobi Quakyi, Kwame Preprah and other old guards of side-lining the party and its founder in making appointments.
National Democrat investigations have concluded that the accusations are unfounded. This papers intelligence discovered that all appointments made so far under the Mills administration are based on recommendations by a nomination committee chaired by political veteran and long time NDC stalwart Alhaji Mahama Iddrisu.
Our intelligence also gathered that meetings held by Prez Mills and Veep John Mahama to finalize appointments have always included Dr Kwabena Adjei-party chairman, Mr. Asiedu Nketia-Gen-Sec, Alban Bagbin- Majority leader in parliament , E.T. Mensah, Alhaji Mahama Iddrisu and Reps of the women's wing. Almost all functional NDC executives have landed ministerial jobs. Party chairman, Dr. Kwabena Adjei has himself landed a juicy job as Chairman of the Multi Billion Cedi Get-fund Board.
Castle sources told National Democrat that the presence of the so-called gang of five at some meetings at the Presidency is not unusual citing similar practice in the Rawlings era where outsiders were invited to key meetings to tap their experience and insight.
Last week, Messer Tsikata, Ato Ahwoi, Totobii Quakyi, PV Obeng as well as Kwame Preprah, Naval Capt (Rtd) Asase Gyimah, Ablakwa Okudeto, Omane Boamah and Felix Kwakye were all conspicuously absent from their make-shift office a the State House .
Our intelligence gathered that Capt. Tsikata and Ato Ahwoi raised much of the resources to finance the 2008 NDC campaign. Ato Ahwoi in particular accompanied Prof. Mills throughout his door-to-door campaign tour of the country to solicit votes for the party.
Checks indicate that Capt. Tsikata, a revered figure in the international scene, especially with regards to security matters, was a key factor in the active involvement of party cadres and former PNDC and NDC operatives in the Mills campaign.
Totobi Quakyi, a founding member of CJA who is generally regarded as operational tactician and media guru of the Mills campaign, worked in relative obscurity and is credited with much of the party's impressive 2008 T.V.campaign adverts.
Messrs P.V Obeng and Kwamena Ahwoi played key roles in preparing the manifesto and governance and related policy issues. The two are reputed gurus on governance issues.
Observers and many party foot soldiers therefore cannot understand the disagreement going on in the party bearing in mind that the so-called 'gang of five' were some of the pillars that propped up the Rawlings-led PNDC and the NDC from 1982 till 2000 and continued to play vital roles in the NDC to ensure that the NPP's devious agenda of killing the partycompletely never materialized.
A concerned diplomat who this paper cannot name for obvious reasons opined that President Mills needs to act with dispatch to iron out the differences between his top men to enable the NDC deliver on its promise of a BETTER GHANA for all Ghanaians.
Source:
National Democrat/By Aaron Okyere