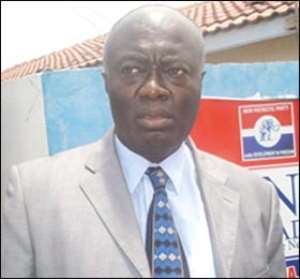 Maxwell Kofi Jumah The New Patriotic Party (NPP) yesterday called the bluff of President John Atta Mills and dared him to act and stop his repeated loud statements that he would prosecute ex-Ministers and government officials his party is alleging were corrupt.
The NPP bragged that President Mills is only blowing hot air in issuing the said threats and that if he really has evidence that any former minister was corrupt, he should put it out and stop making statements that tarnish the reputation of the past administration.
Speaking at a news conference yesterday, Maxwell Kofi Jumah, Member of Parliament (MP) for Asokwa and a former Minister, said if President Mills is committed to fighting corruption, he should first ask Nana Konadu Agyeman Rawlings, the former First Lady and Sherry Ayittey, Minister for Environment, Science and Technology, to be frank with him on the saga of the divestiture of the GIHOC Nsawam Cannery in favour of Caridem.
Mr. Juma said he was ready to face prosecution in any court any day because nothing untoward about him would be uncovered.
He called on President Mills to be proactive and heed the advice of former President Rawlings that he is rather too dull.
The news conference, addressed by Peter Mac Manu, the NPP National Chairman, was for the party to give an assessment of President Mills' first 100 days in office.
The party said though 100 days is a relatively short time to assess a government with a four-year mandate, President Mills himself has assessed his own performance and moreover had mentioned specific things he would achieve for the country within the same period.
Mac Manu and the NPP, after assessing the new government, said it had performed so shamefully and abysmally that they give the President a 21-day period within which he should hold a national conference of experts and practitioners from all sectors to deliberate on the challenges facing the country.
A statement read by Mac Manu on behalf of his party said the last 100 days had seen the new administration concentrate on trivial and petty partisan politics characterised by assaults of innocent civilians, violent seizure of vehicles belonging to political rivals, the intolerance of critical media among other negatives.
Mac Manu stated further that the President is apparently unperturbed that in the last 100 days, the prices of foodstuffs and essential commodities have gone up, and that his government is rather threatening to cut subsidies on consumption of electricity, water and other tariffs.
 "On the NDC government's own promise to reduce fuel prices drastically and to reduce various taxes and tariffs to bring relief to Ghanaians, what we have seen has been insulting public relations gimmick," the statement added.
They accused the NDC of surreptitiously revising its 2008 manifesto to evade fulfilling of all its electoral promises which the NPP believes is a move to deceive and defraud the people of Ghana.
According to Peter Mac Manu, the NDC had expunged the promises from the manifesto, recognizing that it was incapable of delivering on them.
"In a show of mediocrity and lack of faith in its own abilities, the vision of taking Ghana to middle income status by 2015 has been shifted to 2020."
He added  that on page six of the original NDC manifesto, the party promised to motivate teachers by improving salaries, accommodation and retirement benefits.
"They said they were going to pay licensed teachers and professionals allowance of 15 percent of the basic salary, pay technical and vocational teachers an additional 10 percent of their basic salary and lastly, they said they were going to pay teachers in deprived areas an additional 20 percent of their basic salary," he pointed out.
But in the revised manifesto, he contended, all the promises catalogued earlier have been taken out. "This is the deceit we are talking about."
The conference was attended by the national leadership of the NPP, ex-ministers in the former government, Parliamentarians and senior party members.
By Halifax Ansah-Addo