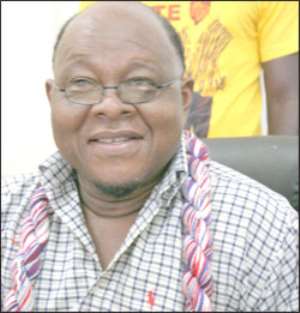 Prof. Mike Oquaye THE SECOND Deputy Speaker of Parliament, Prof. Mike Oquaye, says Parliament is very vibrant and is working hard to deepen democracy in Ghana.
Speaking when a delegation from the Parliament of the Czech Republic called on him at the Parliament House yesterday, Prof Oquaye told them that Parliament was a lobby house which has influence on government.
The delegation, led by the Chairman of the Foreign Affairs Committee, Jan Hamacek, was in the country to look at the possibility of investing in certain areas of the country.
Prof. Oquaye who is the MP for Dome-Kwabenya said Czech stands strong in agriculture, engineering and environment and therefore encouraged Czech investors to invest in these areas in the country for mutual benefits.
"We would like to have more exchange with you to benefit both of us."
Recalling the long-standing relations between the two countries, Prof. Oquaye said Ghana was the first country in Black Africa to open embassy in Czech in 1960, and since then, a number of people including some compatriots have gained scholarship to study medicine and engineering in that country.
He said Czech has promoted freedom of human rights and democracy, saying he was therefore not surprised that Czech would be presiding over the European Union in June this year.
Mr. Jan Hamacek expressed appreciation about the role Ghana is playing in West Africa to deepen democracy and urged her on to maintain that feat.
He said Czech stands for good tradition in Africa and was ready to start investment in infrastructure, environment, regional integration and trade as well as share her experience with Ghana in other areas of cooperation.
By Sheilla Sackey