EPAs stakeholder consultation by June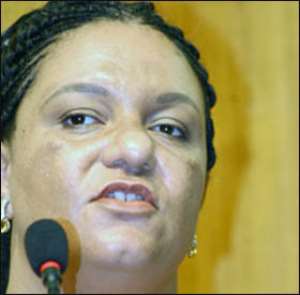 Hannah Tetteh Traditional and non-traditional exports from Ghana could be affected if the country endorses the European Union's Economic Partnership Agreements (EPAs) without doing due diligence.
Hannah Tetteh, Minister of Trade and Industry, who made this known to journalists Thursday in Accra, said exports like cocoa, pineapple and poultry were likely to be affected, hence the need for government to engage local stakeholders by the end of this month for inputs.
And concerns raised at the local stakeholders' meeting would be forwarded to Cabinet for consideration.
Government is also seeking to re-engage the EU on the agreements in order to reach a fair deal.
Though the EU has indicated that it wants the agreements signed by June this year, Government has maintained it wants to consult stakeholders first to ensure a mutually-acceptable pact devoid of any negative consequences to local exporters.
Since 2002, efforts by African, Caribbean and Pacific (ACP) countries and the EU to put in place new trade agreements yielded the design of the Economic Partnership Agreements (EPAs).
This replaces the previous market access regime of unilateral preferences for ACP countries, which became open to challenge in the WTO by other developing countries.  EPAs also safeguard the development requirements of ACP countries while respecting international rules.
Since comprehensive EPAs could not be negotiated in time, interim EPAs were agreed upon for endorsement by some countries including Ghana and Cote d'Ivoire in order to safeguard preferences, secure market access and move forward with talks on 'full' EPAs in ACP countries.
The EU has already signed interim or full EPAs with 36 countries of the 77 in the ACP.
The other 31 are Least Developed Countries (LDCs) and therefore receive full access to the EU market without any need for reciprocal opening under the EU's "Everything but Arms" provisions.
By Samuel Boadi