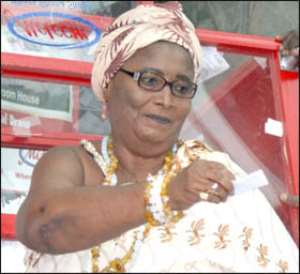 Naa Dedei Omadru, Ga Manye picks the winning ticket Three customers of the Melcom Group of companies will be flown to the British capital for a sight-seeing expedition for emerging winners of the company's Pre-independence Furniture Bonanza.
Mohammed Muda of Accra, Sulemana Iliasu, Tamale and Dr Kewesi Orgle of Accra, were the three lucky winners whose names were drawn at the forecourt head offices of Melcom Group at the end of the promotions before the Easter festivities.
The bonanza, which commenced on February 23 and ended on March 8, took place in all the 20 branches of the company across the country.
During the three-week period of the bonanza, Melcom had on display various furniture for the home, office, hotels, conference rooms, bar, kitchen, bathroom, dinning and outdoors like garden.
Before the final draw, all the transparent ballot boxes with tickets bearing the names, phone numbers and locations of the customers that had been neatly clipped, were emptied into a bigger box.
Dr John Yabani, Greater Accra Metro Health Director, who walked to the draw box, pulled out the tickets of the three lucky winners in sessions out of the thousands of entries. As the grand prize they will get return tickets for air trip to London on the Ghana International Airline. There were no consolation prizes.
To qualify, clients were required to purchase furniture worth GH¢50 from the large variety that was available in the Melcom showrooms in any branch throughout the country. With this they get a raffle ticket which they fill to enter the draw.
Later in an interview, Mahesh Melwani, joint Managing Director of Melcom Group said the company intends to organize more of such promotions this year.
"The garment promo just ended; we will be having the electronic promo and many more on regular basis," he said. Melcom group also says it will soon open the 800 square meter branch which will be the biggest supermarket in Ghana at Avenor.
By Emelia Ennin Abbey