Appointment of Agyenim Boateng wrong - Prof. Karikari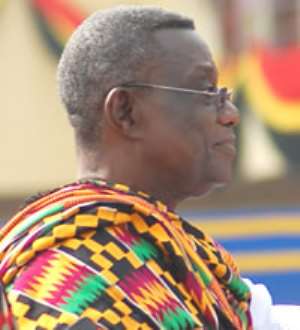 The Executive Director of the Media Foundation for West Africa, Prof. Kwame Karikari has chided President J.E.A. Mills for appointing Radio Gold's morning show host as Deputy Information Minister.
He said Mr. Agyenim Boateng and other journalists were noted for unprofessional conduct during last year's elections.
And to reward such a person with an appointment is a tacit endorsement of unprofessionalism in the media, he noted.
Prof. Karikari was speaking to Joy News at the end a forum organised by the Danquah Institute to assess the government's 100 days performance.
He argued that Agyenim Boateng and other journalists through their utterances promoted chaos and incited violence prior to the elections.
That behaviour, according to him, could have plunged the country into the throes conflict.
And for a president who came into office promising to unify the country, rewarding such conduct can only be disappointing, he said.
Mr. Agyenim Boateng, Prof. Karikari counseled, must do an introspection and realise that the seeming recklessness exhibited during the elections cannot be translated into government business.
A security analyst, Dr. Kwesi Annin also told Joy News the security situation in the country had worsened.
That detracts from the president's inaugural pledge to make sure no Ghanaian lives in fear.
Dr. Annin said the pledge is a mirage as he faces death threats for calling for the dismissal of the Northern Regional Minister, Stephen Sumani Nanyina.
The threats are so serious he is contemplating seeking asylum.
He told Joy FM that Mr. Nanyina had demonstrated a lack of capacity to administer the troubled region.
His comments followed altercations between Mr. Nanyina and the Northern Regional Police Commander, DCOP Ofosu Mensah-Geabour which led to the withdrawal of the police officer from the region.
He said persons believed to be supporters of the regional minister want him to retract the call or face the consequences of his recalcitrance.
Story by Malik Abass Daabu/Myjoyonline