Avoka blasts critics over removal of N/R Police Commander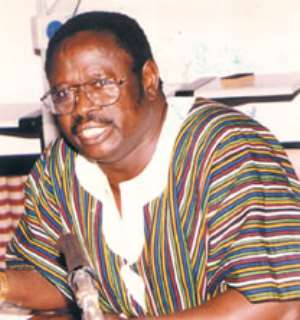 Interior Minister Cletus Avoka has described as preposterous criticisms against his decision to withdraw the Northern Regional Police Commander DCOP Ofosu Mensah Gyeabour.
Mr Avoka said the removal of the Mr Gyeabour from post is the best step to take under the circumstance and that comments against the action are rather misplaced.
The Interior Minister's reaction follows comments by a security analyst Dr Kwesi Aning that raised doubts about the appropriateness of the minister's action.
DCOP Gyeabour's withdrawal follows a frosty relationship that exists between him and the Regional Minister Stephen Sumani Nanyina.
The regional minister dismissed the DCOP Gyeabour from a Regional Security Council meeting in Tamale accusing the police commander of leaking to the media "classified information" that is critical to peace in the region.
But DCOP Gyeabour has rejected the claims saying he only spoke about the REGSEC's decision to extend an ultimatum for voluntary surrender of weapons and an amount of GH¢300 for each weapon turned in.
Following this Mr Gyeabour on Friday petitioned Mr Avoka but the Interior Minister instructed that the police commander steps aside while investigations into the matter are started.
Mr Avoka told Joy FM's Sampson Lardi Ayenini on Saturday the removal of the police commander is only an interim measure taken upon the advice of the acting Inspector General of Police Mrs. Elizabeth Mills-Robertson.
The two deputies of Mr Gyeabour will act in his stead.
Politically correct
Dr Kwesi Aning in a separate interview with Joy FM said the Interior Minister's action was politically-motivated.
He said while the removal of the police commander could have been politically-correct, it does not hold the key to the long-standing tension in the region.
Editor-in-Chief of the Crusading Guide newspaper Abdul Malik Kwaku Baako, commenting on the matter, said the minister's action amounted to "killing an ant with a mattock."
Story by Fiifi Koomson/Myjoyonline