Silver, Golden and Wooden Spoons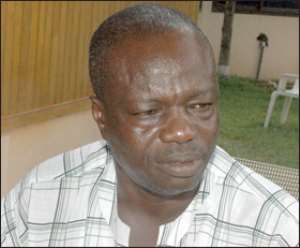 Kwesi Biney How have we come to be mere mirrors to annihilation? For whom do we aspire to reflect our people's death? or whose entertainment shall we sing our agony? In what hopes? That the destroyers, aspiring to extinguish us, will suffer conciliatory remorse at the sight of their own fantastic success? The last imbecile to dream such dreams is dead, killed by the saviours of his dreams.
Ayi Kwei Armah's 'Two thousand seasons'.
Politics and political campaigning for political power is supposed to be based on issues and the abilities, capabilities and competences of individuals or group of individuals to use available resources to achieve the overall objectives of society.
Indeed in many advanced societies, ideologies become very key factors in political campaigning in the quest for political power.
Shively in his book 'Power and Choice' notes that 'most people approach politics through an ideology- which is a set of related ideas that modify one another, an organized set of ideas'. Shively is of the view that ideologies are developed and maintained because of their usefulness to individuals in responding to events and their utility in public political argument.  
He may be right in the political environment of the advanced countries; but in our circumstances, I do not believe that ideology becomes the basis for political campaigning.
We are comfortable in even looking at whether a political opponent is short, tall, dark or ofiri. If you are not lucky to be handsome like me (who told you I am ugly), no matter your level of competence, your political opponent will spend all his time talking about your bad looks and the fact that your head is like coconut.
They will not talk about the fact that the coconut-like head has a lot of ideas that will transform the society.
In the precursor to the last general elections, something happened which was so populist and irrational, yet it came from the lips of a Professor of Law and a former Vice President and now a President of this country. It was at the National Theatre in Accra.
The occasion was the introduction of the then running mate of the National Democratic Congress (NDC) by the party's Presidential Candidate to supporters of the party, His Excellency the Vice President, John Dramani Mahama.
In talking about his own background, the learned Professor Atta Mills talked about his father being an 'ordinary' teacher, and that he was not born with a silver spoon in his mouth, in apparent reference to his main political opponent at the time, Nana Addo Danquah Akufo-Addo whose parental background, we all know, was in the upper class bracket in the Ghanaian context.
Nana Addo's parental background, which he did not determine, also became a campaign message.
That it is a crime in this country to be born to successful parents, and for which reason such a person should not become a leader? Who in this world would, if he or she is consulted by his Maker, choose parents who are poor?
Many of us had to struggle hard to attain whatever academic levels we have on installment basis because we had parents who did not have a pesewa.
And that if someone was born to a successful parent, he should not enjoy the goodies and the opportunities that the parents can and are willing to offer?  OHIA YE YAW PAPA. 
In any case, His Excellency Prof. Atta Mills, in spite of his background, succeeded in becoming a law lecturer, a Commissioner for the IRS, became the Vice President of the Republic of Ghana and now the President of the Republic Ghana. How would he refer to his children?
What type of spoons would be found in the mouths of his children at this stage? Obviously the children of our President would have GOLDEN SPOONS in their mouths.
In any case, who said a teacher in the era of Prof. Atta Mills' father was 'ordinary'? They were the role models in our society. Yes, Teachers and Priests. And so if the learned Professor took his lessons well and followed the lines of his father, but became a bigger teacher, should anyone hold that against him or his children?
Should anyone hold the children of our President to ransom in future just because their father worked very hard to become the President of this country? That will be very unfair to these innocent children.
Yet someone was derided and considered unfit to be President because he did not suffer like Kwesi Biney who had to do all menial jobs to pay his way through education.
I went to school on an empty stomach in many instances, bear-footed with tattered uniforms at times.
My child never experienced any of the agonies I went through because it was my responsibility to ensure he did not suffer the way I did. Will anyone hold that against him tomorrow?
Let us play decent politics and encourage our people to appreciate success and frown at poverty because poverty is a huge hindrance to human progress.
The poor will remain poor until we encourage them to appreciate the fact that their Maker did not design them to be poor and that there is dignity in working oneself out of poverty and changing the lives of generations after us.
That is how societies develop. Let us eschew envy towards the successful ones in the society and encourage, as well as help the poor out of their predicament rather than enviously demonising the rich in the society. Such attitudes do not help nations to grow.
After all, if yesterday my father was crediting konkonte, whose botanical name is lapeewa, and was a lover of koobi, I should be eating tilapia, which is nothing but an educated koobi, but is very expensive, if I have the means through hard work to pay for the tilapia.
 
By Kwesi Biney