Sack Northern Regional Minister; he is incompetent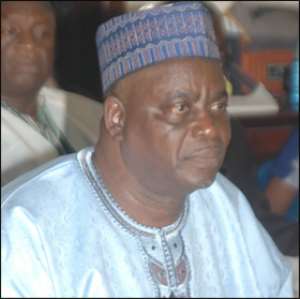 A Security Expert, Dr. Kwesi Anning, says the Northern Regional Minister, Stephen Sumani Nanyina, must be dismissed for gross incompetence in dealing with security issues in the region.
He said the conduct of the minister so far clearly demonstrates his lack of understanding of the complex issues of security.
Dr. Anning's comments follow a brouhaha between the minister and the Northern Regional Police Commander, DCOP Ofosu Mensah Gyeabour.
Mr. Nanyina dismissed the police commander from a Regional Security Council meeting accusing him of leaking sensitive information to the media.
But DCOP Gyeabour rejected the claims saying he only spoke about the REGSEC's decision to extend an ultimatum for voluntary surrender of weapons and an amount of GH¢300 for each weapon turned in.
That information, he told Joy News, could not be described as sensitive and warrant his sacking from a REGSEC meeting by the minister.
DCOP Mensah Gyeabour said he had been unduly ridiculed by the minister's action and therefore filed a petition to the acting Inspector General of Police and the Interior Minister.
The police officer said even before the so-called leaking of information, the minister on assumption of office had said he had no confidence in the police.
DCOP Gyeabour accused Mr. Nanyina of interference in his work declaring, "I don't take instructions from him."
The frosty relationship between the two has culminated in the withdrawal of the police commander from the region.
His deputy will act in his stead.
Interior Minister Cletus Avoka told Joy News' Evans Mensah the withdrawal of DCOP Mensah Gyeabour was meant to avoid any further confrontation between the two.
He said he was yet to study the petition.
Dr. Anning believes the withdrawal of DCOP Gyeabour "is terribly unfortunate because DCOP Mensah Gyeabour is a competent police officer."
He expressed regret the civil authority had been so abused that a competent police officer should be withdrawn from post.
According to the security expert, Mr. Nanyina, "has a here-I-come attitude," that should not be exhibited by a person responsible for security in a volatile area such as the Northern Region.
Story by Malik Abass Daabu/Myjoyonline