Security: Mills scores poorly on victim's card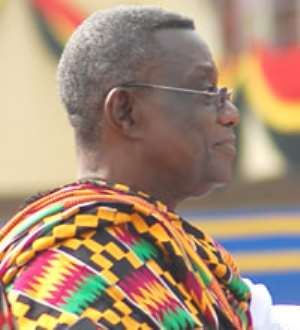 While the president is touting what he calls unparalleled achievements in 100 days, a victim of an armed robbery has scored him 0.5 out of 10 on security.
On a scale of 0 to 10, the president on Tuesday gave himself 8 on the general performance of his administration.
But Joseph Ngala, who suffered the harrowing and grueling ordeal of armed robbery lasting several hours, said president Mills' promise of total security for Ghanaians so far has proven a mere talk.
In an emotional interaction with Joy News' Israel Laryea, he recounted a Hollywood style encounter with the robbers.
His 10-year-old son, whose innocence did not insulate him from the vagaries of the attack, also shares his experiences of a day he will forever remember.
He told Israel Laryea he thought the intruders were officials from the Electricity Company of Ghana as the gun-totting robbers ransacked his wardrobe.
But it soon dawned on him the situation was more serious than his innocence led him to believe and he changed his mind.
"Even though I was afraid, I didn't cry," he told Israel Laryea.
But that was not all, his mother's sales from the shop she operates was emptied, including coins, into a sack for the robbers.
Listen to the attached audio for the victims' narrations and police Public Affairs Director, DSP Kwesi Ofori's comments on the way forward.