Fifa ban looms over Ghana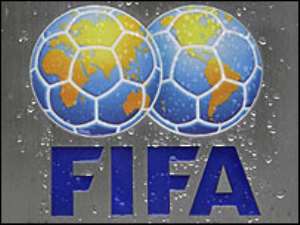 Fifa has kept the threat of a ban hanging over Ghana football after relations between the country's federation and the sports minister hit a new low.
In an exclusive statement to Ghanasoccernet.com, football's world governing body insists it has not backed down from its initial warning to the country.
Fifa was alerted by media reports of government interference in the Ghana Football Association (GFA) after sports minister Mohammed Muntaka Mubarak demanded the inclusion of government representatives on the committees within the federation.
Under strict Fifa rules, national football associations must not be subject to government control as the minister's move infuriated the world body.
Fifa communicated with the GFA last week Thursday over the issue, demanding information over the minister's demands before deciding whether to ban the country from international football.
Despite the warning to the country, the tense stand-off between the minister and the GFA showed no signs of easing on Wednesday, which prompted Fifa to renew its fresh veiled threat.
"We are currently monitoring the situation regarding the Ghana Football Association," Fifa Media Department wrote exclusively to Ghanasoccernet.com.
The disagreements took a new twist on Wedenesday when Mubarak threatened to take action if the GFA fails to ratify a five year ban the ministry imposed on Kotoko CEO, Sylvester Owusu Asare.
The government committee handed Asare the ban when he admitted collecting money to allow fans to enter an already-full stadium, leading to the death of four fans during a game between Hearts and Kotoko in February.
While the Kotoko chief's ban has been welcomed by many Ghanaians, it will be ineffective as the GFA is the only mandated body in the country to punish football officials.
But the ministry's inability to liaise with the GFA over the ban for Mr. Asare led to no action from the federation, which saw the minister's pronouncement as an imposition.
The GFA will hold a press conference at 1100 GMT (today) Thursday to address the issues.
A ban from international competition means the Black Stars will not be allowed to play in future World Cup qualifiers and will not play at the tournament to be hosted by South Africa in 2010.
The Black Satellites will also be booted out of the U-20 World Cup to be held in Egypt later this year while Ghanaian clubs will not play continental matches.
Meanwhile, many football administrators have called on both sides to ceasefire to avoid the potential ban on the country.
Former GFA boss Ben Koufie insists the row could lead to a ban which would affect the development of the game in the country.
He called for the independence of the GFA from governmental control.