Despite constant criticism of gov`tMills glorifies Rawlings…but denies that his gov`t is dull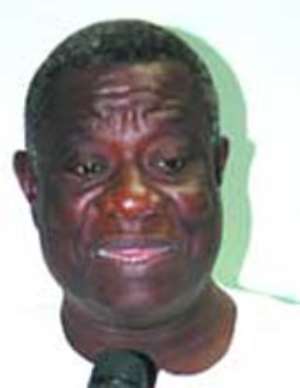 Despite constant criticism of gov't Mills glorifies Rawlings …but denies that his gov't is dull President John Evans Atta Mills yesterday contradicted the views of the founder of the National Democratic Congress (NDC), Flt. Lt. Jerry John Rawlings that his government was moving at a snail's pace. According to him, his administration was doing things in consonance with the law and that his government was moving fast in the right direction. Addressing the press at the seat of government to unfold his achievements within the 100days of his administration, President Mills believed that despite various reservations against former President Rawlings by sections of the populace, he is a seasoned politician and that his views or sentiments may be considered when necessary.
"President Rawlings is the longest serving President. He has a political sensitivity and when he speaks, we listen to him, take whatever is good and see whether it can be implemented," he said.
According to him, it was natural that people should criticize him, but he called for proper criticism. "I welcome criticisms. Criticisms are important, even the negative criticisms are also important. We don't have to throw them aside," he said.
The well-composed President Mills, who responded to a suggestion by Former President Rawlings that he was too slow in acting, said "I don't think we are very slow. We are running as far as the constitution enjoins us to do," he said.
Recounting a number of achievements under his 100 days since assumption of office, President Mills, relaxed and concise with his narration and answers, said he has not enjoyed any honey moon as is being claimed, and that he had been working hard to improve upon the lot of Ghanaians.
He reiterated his vow to respect the rule of law, saying his administration would not shield any of his Ministers. He said any member of his administration who would fall foul of the law, would be dealt with according to the tenets of the law. According to him, just as he was not prepared to shield any member of his government, so also would he not hesitate to prosecute any member of the former government that would be found to have committed criminal act. "I will not condone any form of criminality," he said.
President Mills, who was given moral support by his cabinet Ministers, threatened to fire any Minister or District, Municipal or Metropolitan Chief executive whose performance would fall below expectation.
According to him, he would not condone any criminality when facts and figures proved that any individual was involved in any act of criminality. President Mills expressed concern over how people tried to crucify his regime as if he had already completed his four-year term mandate given to him by the Ghanaians.
"It is not our intention to repeat mistakes of the past. Let us be mindful of the things of the past. It is unfortunate that the kind of cooperation that we expected from our predecessors did not come. The mistakes would not have come if they had cooperated with us. We cannot cry over spoilt milk," he said.
President Mills condemned the era of proceed on leave under the regime of his predecessor and assured Ghanaians that he would not leave a legacy like that of Mr. Hodari Okine's case. Mr. Okine was one of the individuals asked to proceed on leave under President Kufuor's regime, and when he took the matter to court and won, he was still not reinstated until the exit of the NPP government.
President Mills, who shared jokes that he enjoyed the cartoons and debates that followed his interactions with the leadership of the Ghana Journalist Association (GJA), maintained that he has done a lot within his 100days.
Explaining his lean government, which he underlined as one of his major achievements, including the passage of disability law among others, he said under President Kufuor's regime, there were 87 Ministers with a huge number of special assistants, which he trimmed down.
.Responding to protests that have hit the presidency following the appointment of MMDCEs, President Mills said it would be impossible to please all people, and that the hullabaloo surrounding the appointments had been limited to few districts.
He however sent a word of caution to the appointees, saying "I am sending a word of caution to everybody that if any MMDCE falls short in his or her performance, I will not hesitate to sack the person. I want to assure you that I am indeed satisfied with the nominees," he said.
On his pledge to reduce fuel prices, he said it was unfortunate that people were misrepresenting his views and took his time to explain. He said during the first round of elections, he promised to reduce the fuel prices when given the mandate and noted the NPP that refused to reduce the fuel despite the reduction of crude oil for so many months, reduced it during the second round of elections.
According to him, during the second run of the elections, he pledged to review the tax-elements which he did accordingly.
On the dissolution of boards, the President stated that the actions were taken because some boards were awarding contracts to individuals without due process, which would eventually saddle the government with a lot of debts and responsibilities.
President Mills revealed that during the second round, boards of various institutions awarded contracts which they should not have done adding that "We were left in the cold."
The President also noted that investigation into all high profile cocaine cases, along side the heinous murder of the Dagbon Over-Lord and others, were still on course and that the government had no pre-conceived mind in doing that, except to make sure that justice prevailed at the end of the day.
He said despite the challenges facing the economy, the government was ready to solve them.
He also contended that his dreams of creating jobs, investing in people and others were also on course. President Mills commended the people of Jirapa for voting massively for the NDC candidate to continue with the works of the late MP, Mr. Edward Kojo Salia.