100-day not same as four-year term - Mills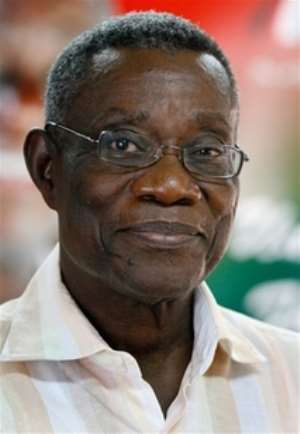 President Atta Mills
President Atta Mills has expressed concern about how some members of the public have misunderstood his 100 days in office, hence crying wolf over unfulfilled promises.
He said promises he pledged to fulfill under 100 days in office are different from campaign promises as enshrined in the manifesto of the ruling National Democratic Congress to be achieved in the party's four-year term as government.
The President, who met senior editors and media owners on Tuesday at the Castle, Osu, stressed that his government, for now, should be judged by his 100-day promises, a lot of which he said have been achieved.
He has therefore pleaded with the public to be patient with his government.
Joy FM's News Editor, Matilda Asante attended the "frank and open" interaction and noted that the President touched on a number of achievements chalked by the NDC government within 98 days in office.
President Mills mentioned the inauguration of the Governing Board of the National Council of Persons with Disability as a fulfilled campaign promise. He also pointed out how his government has lived up to its promise to have a lean government; citing his 75 ministers against 85 by the preceding government.
On sanitation, the President admitted that the nation has a long way to go and assured that it would be a programme his government would continue to pursue.
Even though some persons the president named for approval as metropolitan, municipal and district chief executives (MMDCEs) were objected in certain quarters, President Mills was pleased that about 90% of the 143 nominations he named were accepted wholeheartedly.
He nevertheless issued a stern warning to MMDCEs that he would not entertain non-performing officials in his administration, and that those who fail to live up to expectation would be shown the door out of his government.
The president underscored the goodwill his leadership has shown to women as it tries to allocate about 40% of political appointments to women. Under his presidency, the nation has a first woman Speaker of Parliament, Acting Inspector General of Police and Minister of Justice and Attorney General among others.
President Mills defended the review of the petroleum prices, first reduced and then increased - explaining that it was the result of rising crude oil prices on the world market.
The President reiterated his government's intention to re-open the Dagbon case. Even though Ya Na Andani II and a number of his elders were killed in 2002, no one has since been prosecuted.
He said the government's interest is in the criminal aspect of the whole issue and not the chieftaincy angle which the committee of eminent chiefs, led by Otumfuo Osei Tutu II, Asantehene, are handling.
Isaac Essel/Myjoyonline