Zenith Bank makes 3,000% profit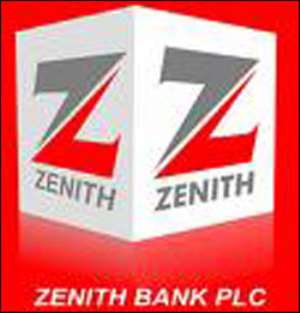 Zenith Bank (Ghana) has produced an outstanding performance for 2008, sending a clear message of its intention to stay at the top of the industry's ladder in all spheres of banking.
An impressive 3,000 per cent jump in profits for last year underscores the bank's commitment to make the most of what is there to share among the 25 banks in the country.
Zenith made a profit before tax of GH¢12.6 million in 2008 which is a quantum leap from the 2007 figure of GH¢404,006.00, indicating more than 3000 percent increase.
The Bank's Managing Director/CEO, Mr Andy Ojei in an interview with the Business & Financial Times described the performance as 'a measure of acceptance from our valued customers'.
"Our performance is certainly something to be proud of. What it means is that we are succeeding in building our brand and reputation. We are also fully aware that we must be consistent with our service delivery".
This achievement also means that the Bank which began operations a little over three years has broken the jinx associated with start-up Banks which normally start to post profits after four to five years of successful operations.
"When we started operations, I made some analysis of the banking industry and realized that banks on the average begin to make profits after four or five years of operations. I told myself that we could improve on that. With our culture of exceptional customer service, our customers have showed faith in us and supported us, and in our second year, we began to post profits. "
Instructively, Zenith achieved an interest income of GH¢35.6 million in 2008 which compared favourably to what it achieved in the previous year, where it grossed GH¢12.9 million.
Interest expense went up from GH¢7.8 million in 2007 to GH¢19.2 million in 2008 which was described by Mr. Ojei as reflecting the rising aver-age cost of funds.
He explained that one of the factors which accounted for the significant rise in the bottom line is the prudent management of expenditures.
"We have been quite prudent in the management of the expenditures. We are watchful of our expenditures to the extent that we have a committee which oversees our expenditures so that they are contained and not get over the roof".
"It is also a deliberate policy not to overstretch ourselves in terms of branch expansion. This explains why we have only opened 12 branches. We have adopted a very conservative approach to branch expansion."
"We make sure that areas where we open branches have huge potential to be profitable and are likely to make profit after five months."
Zenith also managed to grow its balance sheet by 150% by increasing its total assets from GH¢154.8 million to GH¢387.9 million.
The huge increase in assets came from over 150 per cent growth in customer deposits from GH¢143.7 million in 2007 to GH¢335.04 million in 2008. This achievement places the bank among the six best banks in the country in terms of deposit base, which is a much better position compared to the previous year where it was ranked 12th. I
Loans and advances to customers saw a significant jump from GH¢63.2million to GH¢137.6 million.