Ofosu-Ampofo calls for cooperation to build the nation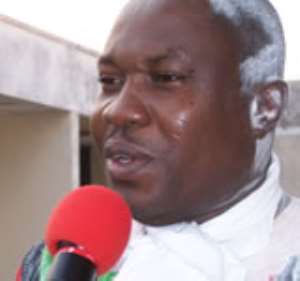 The Eastern Regional Minister, Mr Samuel Ofosu-Ampofo

The Eastern Regional Minister, Mr Samuel Ofosu-Ampofo, has said a promise by the President to have the filth in the country cleared within his first 100 days in office would not be realized if citizens refuse to support the declaration and intentionally create filth.
He said Prof John Atta Mills is the not President for any political party or a particular group of people and therefore it was important for every citizen to support the President to ensure that his plans for the country are realized.
Mr Ofosu-Ampofo was speaking at an Easter Convention of the New Juaben North Zone of the Church of Pentecost at Koforidua on Sunday.
He said the spirit of service and commitment to the nation seemed to be dying and called on the Church of Pentecost to inculcate character moulding in the educational curriculum of the Pentecost Education system.
At a convention of the Begoro Zone of the Church of Pentecost, Mr Ofosu-Ampofo called on the church and the people in the region to boldly confront the HIV/AIDS pandemic to ensure that all strategies to ensure its reduction are pursued.
Rev. Samuel Kweku Ofosu, Koforidua Area Apostle of the Church of Pentecost, appealed to Christians to continue to stay in the church no matter the difficulties that they go through.
He said it is only when they are in the church that they would receive guidance and protection of the God no matter their situation.