IT is said that when two elephants fight, the grass suffers. But the reverse might be the case, in the boardroom fight between billionaires Alhaji Aliko Dangote and Mr. Michael Otedola, as the public might turn out the ultimate beneficiaries. Already, the price of cement, for instance, is expected to fall, as Otedola's Zenon cement is said to have berthed at the nation's ports...
THIS is not the proverbial Yoruba roforofo fight, or the usual air boxing; it is real and becoming messier, even as mutual friends battle to settle the once very close businessmen.
No one is very certain when the personal war started, but it reportedly came to the open when billionaire industrialist, Alhaji Aliko Dangote, noted for his near monopoly in the sugar and cement business in Nigeria, decided to step into Mr. Michael Otedola's equally near monopolistic oil, albeit diesel, turf using a consortium that included his family investment firm, M.R.S. Holdings, managed by cousin, Mr. Sayyu Dantata to outbid Otedola's company to take over Chevron's investment in Texaco local and West African downstream operations.
MRS paid $1 billion for Chevron's West Africa division, as against Otedola's $200 for the Nigerian operations.
It is alleged in Otedola's camp that Dangote broke a gentleman's agreement that the duo should not stray into each other's main area of operation.
Corlay Global S.A, a Panamanian company owned by an African consortium, comprising Dantata's MRS Holdings and Petroci Holdings, won the bid.
Otedola's Zenon had overtime mopped up 22 per cent equity of Texaco on the floor of the Nigerian Stock Exchange, in preparation to taking control of the oil firm's majority shares. But that was not enough to upstage Dantata, who eventually acquired 60 per cent shares by out-bidding him.
Reports have it that a dissatisfied Otedola had approached Dangote, as a friend and cousin to Dantata, to intervene in the matter, interpreting MRS' bid as a challenge, especially as Dangote is said to control 80 per cent of its equity, all to no avail. A source alleged that Otedola was piqued that he had been confiding in Dangote of his plans to take over Chevron, not knowing that his friend actually planned to beat him to it through his cousin. He was said to have felt betrayed by Dangote's intent and approached a court to thwart the sale of Chevron's Texaco stakes to MRS.
To prove his ability to fight back, the diesel magnate allegedly launched into Dangote's enclaves of cement and sugar business. Otedola got an injunction from a Nigerian court to block the sale, alleging that the new owner would be taking on too much debt and could end up cutting jobs. But Chevron fought back, describing the injunction as political and invalid, being registered and taxed in Bermuda.
In February, an appellate judge modified, but still upheld the ban.
Further to his move into Dangote's fiefdom, Otedola declared plans to invest $2 billion in sugar and cement production, just a day after Chevron sealed the deal regarding the sale of its Nigerian downstream operations to MRS.
In November, the Security and Exchange Commission (SEC), Nigeria's securities regulatory agency, froze the assets of African Petroleum (AP), for which Otedola accused Dangote.
All of a sudden, the shares of AP started plunging on the floor of the Nigeria Stock Exchange (NSE), following share movements or what capital market operators call crossing. By penultimate Monday, AP's shares had lost over 80 per cent value in a space of about eight weeks, prompting the oil firm to place advertorials in several Nigerian mainstream newspapers, accusing companies owned by Dangote and broker, Nova Finance and Securities of share manipulation.
AP, in the advertorials signed by its management, accused companies affiliated to Dangote, and Nova of engaging in "certain unwholesome and unethical activities."
The management of AP attributed the share value deflation to the ongoing feud between Dangote and its chairman, Otedola. At its peak, AP shares sold for N239, but fell below N60 per share during the period.
In February last year, the SEC had accused Otedola and AP of price manipulation, but took no concrete action against him. A recent report by Forbes, which only a few weeks back rated Otedola as the second Nigerian, behind Dangote, on its world billionaires' list, stated: "Nigeria's only other billionaire when we published our ranks in March, worth $1.2 billion. His fortune is now down to approximately $500 million," in reference to Otedola.
Already, the rift has taken a toll on Nova, which was last Wednesday suspended by SEC. The regulatory agency said it was investigating Nova and Dangote's companies fingered in the share manipulation allegations.
Nova is alleged to have breached SEC's regulation that precludes dealing members from creating a false market on a specific security to effect a change (slide, this time) in its share price.
"The Council of The Exchange has suspended Nova Finance and Securities Limited from all capital market activities and a fine of N500, 000 ($3,429) per day has been imposed on the firm," the NSE said in its own statement.
It equally fined AP N300, 000 for causing the publication of the advertorials alleging manipulation of its shares, rather than first reporting the matter to it.
Dangote is vice president of the NSE, the country's capital market operators.
But associates of Dangote frowned at the continuing AP advertorials, which it claimed came despite the pronouncement by the NSE sanctioning AP for the initial ones and ordering immediate cessation of the publication.
A group under the aegis of Committee for the Defense of Justice and Advancement (CODJA), in an advertorial signed by one Bamidele Sanya, expressed concern over the worries of some stakeholders of AP regarding the share value deflation.
"The nature of the allegations that have been made and the subsequent action by the Council of the NSE deserves greater analysis, especially in the context of the overall performance of AP shares over the past 15 months," it stated.
The group noted that between January 2007 and March last year, "AP's share price experienced a phenomenal level of growth (62 per cent) against an NSE increase of 198.7 per cent. What could have accounted for this level of growth in the period? It certainly does not seem to have been supported by any fundamentals.
"AP shares were placed on technical suspension, following its public offer for an unusually long period of nine months. During this time, the global economic crisis struck and investors were unable to realise the substantial gains they made as the price was rising. Seeing the general and protracted bear market that began on the NSE, a significant number of investors placed sell orders on AP stock, like other stocks quoted on the exchange, which would be activated once the suspension was lifted.
"It is important to remember that first, significant volumes of sell orders drive down an equity's price and second, that the NSE has a cap on losses or gains in any one day of 5 per cent. Therefore, as is normal on any market, when the suspension was lifted in January, the price of AP shares began to fall on a day by day basis as the sell orders kicked in."
In addition, it said between January 16 and February 10, AP shares fell from N298.98 to N216.13, a drop of N77.85, representing over 26 per cent.
It stressed that during this period, Nova did not conduct any transactions involving AP shares, insisting that the price fell with no involvement or activity by Nova on the stock.
The group further stated that during the period Nova actively traded AP stock, the price fell by a further 33 per cent, from N105.45 to N69.99 and that there were a total of 132 transactions on AP shares during that period, most of which did not involve Nova. v It contended that it might be necessary to look at the performance of the entire oil-marketing sub-sector of the NSE in the past 15 months to get a clear picture of how AP's share price performed, in comparison with the rest of the industry.
"Since March last year, AP's share price has declined by 82 per cent and the average price drop of other oil marketing companies over the same period is 65 per cent against an overall NSE index reduction of 53.2 per cent.
"Chevron Oil's stock depreciated by 76.6 per cent between March last year and March this year. Oando's stock price dropped by 63.9 per cent and Total's price dropped by 51.5 per cent. These are companies with strong management teams, multinational links and a strong and proven track record, yet the price fell in line with the rest of the market," they emphasised.
It, therefore, wondered what makes AP feel it should be significantly out-performing its peers, asking: "Has the management of AP brought in such significant added value to the company to justify this?"
The group also recalled that the entire NSE Index performed poorly in the last 12 months, with every sector declining significantly in value, including the once vibrant banking sector, which makes up a major proportion of the exchange's market capitalisation.
It reckoned: "Given its operating performance, AP have lost considerably less value during the current downturn than its industry peers and its share price remains above its valuation before the major price increase of 2007/08.
"Despite experiencing significantly more volatility than its peers, due to the company's recent equity offering and change in free float, AP's performance from January 2007 to date is fundamentally in line with its peers."
It explained that the extreme rise and extreme fall on the AP price, according to investigations, was caused by its handling of its own shares on the way up.
"It is disingenuous of AP to cry wolf when it feels it is the victim of stock decline, but to feel it is perfectly acceptable for the stocks to rise astronomically.
"It is clear that AP shares have experienced a correction fundamentally, in line with the overall performance of the stock market, and that they in fact continue to perform broadly in line with the equity pricing of their industry peers.
"In other words, AP shares have performed in line with the market and the alleged manipulation that took place would have been counter-productive in the extreme, if intended to willfully force the fall in AP's share price, the market would have done the job on behalf of the alleged perpetrators, with or without illicit action."
It then wondered what the motivation was behind AP's decision to make public the allegations and "to willfully and knowingly violate NSE rules and regulations itself in the process. Has the Management of AP just woken to the realisation of its duty to always inform its shareholders about the true position of things relating to the company?"
They therefore urged the management of AP to desist from peddling half-truths concerning the decline of its shares value and attributing it to the seeming disagreement between its boss, Otedola, and Dangote.
During the administration of former President Olusegun Obasanjo between 1999 and 2007, Dangote, then a commodities trader, secured near-monopolies in cement, sugar and salt supplies, which he used to transform his import-export firm, Dangote Group, into a manufacturing conglomerate.
About the same time, Otedola, son of former Lagos State governor, Sir Michael Otedola, who was managing his family's business, launched Zenon Petroleum in 1999 and almost immediately took monopolistic control of the diesel business, allegedly with the tacit backing of Obasanjo.
The two had substantial chunk of government-divested interests when the Obasanjo government off-loaded state-owned companies and corporations and were members of the board of a key government-business committee.
In 2007, Dangote and Otedola floated a consortium, Blue Star oil Services Limited, with which they bided and finally bought the Port Harcourt and Kaduna Refineries, although it was later alleged that Otedola's name was conspicuously missing in the firm's board of directors.
A price war is expected now that the Zenon products arrive in the markets. Incidentally, Dangote applied the same strategy when he made his entry into the salt, sugar and cement markets.
Already, Otedola is alleged to have pumped a huge sum of money into the building of his sugar refinery and cement factories. He became the chairman and chief executive of AP in September 2007 when he acquired 12.5 per cent of its shares. His Zenon bought over most of the 28 per cent Nigerian National Petroleum Corporation (NNPC) stake in the firm.
Over the last 10 years, the bond of friendship between Dangote and Otedola has been strengthened by a string of business partnerships, some overt, others clandestine, especially in oil deals, with the support of Obasanjo, believed to be their common godfather.
In April last year, on the eve of Obasanjo's exit from Aso Rock, the duo formed Blue Star Oil Services consortium to buy 51 per cent controlling shares in the 210,000 barrels per day capacity Port Harcourt and 110,000 barrels per day Kaduna refineries for $721million.
The sale generated so much public outcry, particularly concerning its alleged undervaluation and circumstances surrounding the sale, coming barely a few days to the end of the administration that the new government of Yar'Adua had to cancel the deal two months after assuming office.
Dangote and Otedola had contributed substantially to the financing of Obasanjo's election in 1999, doling out about N150 million. In return, they were rewarded with juicy deals, especially in the lucrative oil and gas business.
From then on, they became not just the country's denominating factors in the economy, but also virtually had their way in any business they cared to dabble into. Some other businessmen saw them as merely being favoured by the former President, even against all odds, while others believed they were mere fronts.
For Obasanjo's re-election bid, when the funds seemed to be drying up, Dangote and Otedola readily came to the rescue, pumping in billions of naira into the project, realising its worth.
They were visible and donated heavily towards the Olusegun Obasanjo Presidential Library project in Abeokuta, Ogun State. It is alleged that they even provided financial backing for the infamous Third Term project aimed at extending Obasanjo's tenure beyond 2007.
Within the Nigerian business circles, it is alleged that the duo benefited more than anybody else from the Obasanjo administration, especially in the importation of petroleum products and cement, a major component in the building and construction industry.
When the federal government's controlling stake in AP came up for grabs in 2006, after it had been taken away from Chief Peter Okocha's Sadiq Enterprises, following the discovery of some hidden liabilities to the NNPC at the point of sale by BPE, billionaire investor and chief executive of Global Fleet Oil and Gas, Chief Jimoh Ibrahim was said to have moved to purchase the stakes by allegedly issuing a cheque for N18.5billion to the NNPC for the purpose.
But Obasanjo thwarted this attempt and had it sold to Otedola for about N17billion, N1.5billion less than what Ibrahim offered. Otedola soon increased AP's operations remarkably, just as the firm's stock rose to a peak of N293, making it one of the most priced in the country.
But it nose-dived as the personality fight raged.
In the fight of these two elephants, the consumers are unlikely to suffer; rather, they can only benefit from a price slash that might result from it. To many Nigerians, it is just another bad deal gone sour between two friends.
But being two major investors in Nigeria, whose stake in the economy is enormous, some say the fight between them could spell danger for the Nigerian economy, considering that others have stakes in their companies too.
Seen to share a common belief of reducing poverty in the country through their companies, some say their current rift could only be settled in Otta, the Ogun State abode of their godfather.
But their feud is bound to bring about healthy competition in the economy, starting with the construction and real estate sectors.
By Iyare Oriki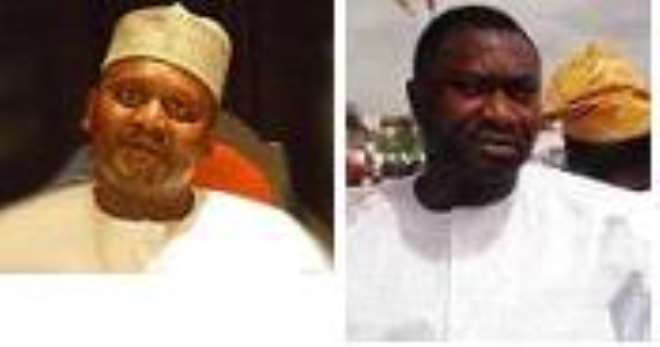 Aliko Dangote and Femi Otedola