Brand new BMW 7 series for Mr. Kufuor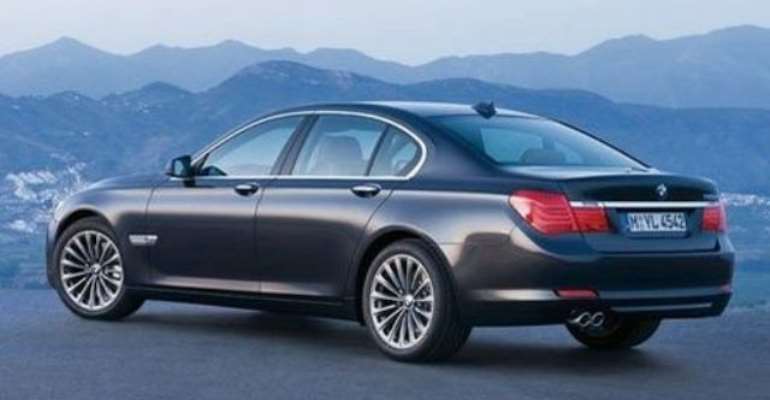 A group of Ghanaians resident in the United Kingdom has served notice that in three months they will deliver a brand new, bullet proof BMW seven series saloon car to the former president, Mr. John Agyekum Kufuor.
According to the group the specifications for the vehicle have been forwarded to the car manufacturers.
They have also hinted that vehicle will be assembled in Mexico.
A member of the group, friends of Kufuor, Mr. Alfred Kwame Larbi who made this known in an interview on Citi Eyewitness News said the donation was in response to the concerns raised by a section of the Ghanaian public after the government took away all the state vehicles from the ex-president.
Three Ford expedition 4×4 vehicles, which were the last batch of state vehicles with the ex-President, were taken away on Monday April 6 by state authorities.
The office of the President however issued a press statement on April 7 expressing its displeasure over how the media had been handling issues surrounding the retrieval of the state vehicles from the former president.
According to the statement the former President has been allocated two Mercedes Benz saloon cars and arrangements have been made for their immediately delivery.
Furthermore, two four (4) wheel drive vehicles will soon be delivered.
Mr. Kwame Larbi tells Citi News that the group is not pleased with the manner ex-President Kufuor is being treated and as such is securing him the vehicle to help ease tensions.
Questioned on whether the vehicle was being clandestinely sponsored by the ex-president, Mr. Kwame Larbi said such reports were false.
He noted that Mr. Kufuor had been officially informed of the purchase on April 7 noting that the former president had expressed his appreciation for the gesture.
Friend for Kufuor is an association of Ghanaian supporters, friends and sympathizers of the ex- President Kufuor resident in the United Kingdom.
Spokesperson for the former President, Mr Frank Agyekum tells Citi News that the gesture is a welcome one but noted that other groups and bodies have also shown similar concerns about the situation the ex-President.
In a related development, Mr. Frank Agyekum has issued issued a press sttaement cautioning government to tackle the the issue about retiring benefits to former heads of state and other government officials of this country in a holistic manner based on accepted norms of state principles.
Per the statement, it is the opinion of the Office of the former President that once the appropriate processes are gone through and a determination made, an end will be put to the speculation and inflamed passions that has unfortunately engulfed our nation of late.
"It would also have set a precedent to be followed by future administrations and not be a matter to be dealt with in an ad hoc manner", the statement says.
By: citmfonline