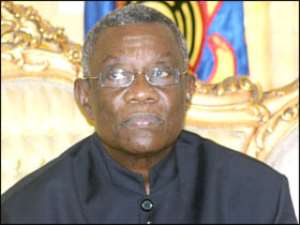 President John Evans Atta Mills A WELL known serial caller of the ruling National Democratic Congress (NDC) in Kumasi fondly known as 'Sly Moshie Zongo' has described the presidency of President J.E.A Mills as the worst ever in the history of the country.
This strong criticism comes barely a week after a leading figure of the ruling party in Kumasi, Kwaku Kankam had descended heavily on president Mills for appointing two deputy ministers for the Information Ministry and two spokespersons for the presidency.
Coming down heavily on the president, the die hard NDC serial caller noted that president Mills has demonstrated in his almost three months in office that his government will be a bad one.
Sounding to be in agreement with ex-president Rawlings recent outburst on the governance approach of president Mills, Sly Moshie Zongo said, he had exhibited no vision as president since he assumed office.
He indicated that the sluggish approach of president Mills in the running of the affairs of the country amply testified that the former vice president was being controlled behind the scenes by some power brokers in the party.
The dedicated NDC serial caller who fought tooth and nail to canvass votes for the ruling party in the Garden City suggested that president Mills should be removed from office to save the nation from total collapse.
He said Ghanaians voted for NDC to come and rescue them from the grips of abject poverty but bizarrely, President Mills' government instead of working towards this goal was rather snatching cars.
"Ghanaians are suffering but the government appears unconcerned because its attention is concentrated on snatching cars that belongs to the NPP," stated he angrily.
The NDC serial caller made these thrilling pronouncements last Wednesday when he called into Kessben Fm's morning show called 'Maakye,' hosted by Yaw Adu Boakye.
Though, he noted that his outburst did not mean that he had left the NDC, Sly Moshie Zongo indicated that never again would he call to defend the ruling party so far as president Mills remained as president.
In an attempt to remedy the harm the verbal explosion had caused the party in the region, a leading member of the ruling party in the metropolis, Alhaji Tasoba said Sly Moshie Zongo was peeved hence, the outburst.
He said the fanatical serial caller was angry because the party failed to pay him an amount of GH¢80,000 he claimed to have spent on phone cards and credits to defend the party on air when they were in opposition.
From Morgan Owusu, Kumasi