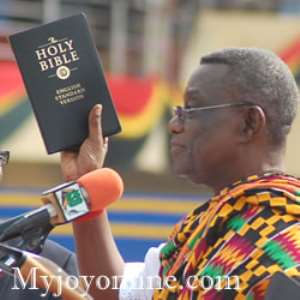 President John Evans Atta Mills is scheduled to start a two-day tour of countries that share a common border with Ghana on Tuesday.
The tour will take him to Cote d'Ivoire, Togo and Burkina Faso.
The President is expected to hold talks on bilateral cooperation with Ghana's neighbours.
Foreign Minister Alhaji Muhammad Mumuni has told Joy News President Mills will also use the tour to consolidate relations with Ghana's neighbours.
"It is important that the president should touch base with our sister countries just to assure them that indeed our foreign policy which keeps them at the top priority is still on course.
"The president is eager to assure our neighbouring countries that indeed our foreign policy with regard to them has not changed," he stressed.
Alhaji Mumuni could not confirm the size of the president's entourage on the trip but said a limited number of officials will accompany President Mills.
"I haven't seen the final list but true to our commitment to ensure that there is always value for money, it's not going to be a huge list," the Foreign Minister indicated.
He said President Mills' team on the tour will be "a lean, effective but efficient one," in keeping with the president's promise to avoid "superfluous and profligate spending."
Tuesday's trip will be President Mills' second foreign trip since he assumed office in January 7. His first trip took him to Nigeria where he attended the ECOWAS summit and met with Nigeria's President Umaru Yar'Aadua.