SHELL V-POWER: The ferrari fuel for your car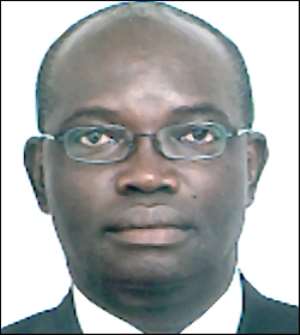 Daniel Nunoo, Chairman, Shell Ghana The Chairman of Shell Ghana, Daniel Nunoo has indicated that the technical partnership between Shell and Ferrari ensures a transfer of knowledge between road cars and Formula One.
"This special relationship is what makes Shell V-Power, the Ferrari Fuel," he said.
The Shell Ghana Chairman disclosed this to the media at his office when he was asked to explain to Ghanaian consumers the direct benefits of the use of V-Power as differentiated grades of petroleum products.
"The collaboration between Shell and Ferrari benefits customers because the knowledge gained from the Formula One program feeds directly into Shell's retail product development. Ferrari's formula one fuel, which is designed for optimum performance and reliability for a single customer, benefits millions of customers everyday," Mr. Nunoo said.
"Since May 2006, the government of Ghana permitted Oil Marketing Companies (OMCs) to market differentiated grades of petroleum products as part of the petroleum sector deregulation process.
Shell Ghana Limited (SGL) immediately blazed the trail by launching Shell V-Power in March 2007 onto the Ghanaian market.
Shell V-Power became the first differentiated fuel to be sold on the Ghanaian market," Mr. Nunoo explained.
He said the V-Power fuel technology is being fed directly into new unleaded Shell V- Power that is carefully formulated to keep the engine clean and also to clean up existing deposits, thus preventing power-robbing deposits from forming on the inlet valves.
"It also helps to provide better protection of the engine. If Shell V-Power is proven with high pressures and temperatures in the Ferrari Engine, imagine how they will perform in your engines too.
It ensures more efficient combustion to provide better responsiveness (important for overtaking on the track or in traffic) through enhanced acceleration and performance. It helps to keep engine parts working smoothly and burns better to reduce emissions," Mr. Nunoo stated.
He recounted the tremendous benefits that the collaboration with Ferrari Formula One in motor sports as:
By the year 2000, Shell V-Power won the first F1 title with Ferrari.
In 2003, Shell V-Power won the best mechanically reliability record ever with Ferrari in Formula One.
This was followed in 2004 by the most successful F1 season ever, after 9 years with Shell, 80% podium finishes and 15% 4th – 6th position finishes and no mechanical failure.
Shell V-Power is available at Shell retail service stations only and is unique to Shell and its performance claims have been tested on the Formula One race track, in successive grand prix victory by Ferrari.
From Business Desk