CPP holds workshop to strategize for next election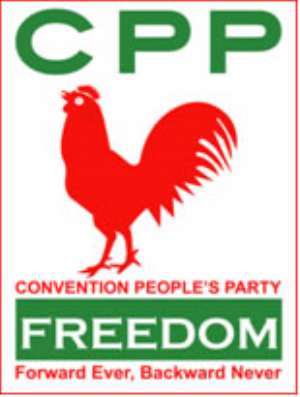 The Convention People's Party on Saturday began a two-day workshop in Accra to train its regional executives on effective party organization to enable them to win more souls for the party.

The workshop is also expected to determine and recommend what the party must do to move forward towards attaining political power in the next general election.

Dr. Abu Sakara, Chairman of the National Organizational Committee of the party who opened the workshop called on members to do away with recrimination and in-fighting which had characterized deliberations of members at various ranks of the party.

Dr Sakara said such acts did not augur well for the forward ever match of the party, adding that, it was making people to believe that the CPP was not a force to reckon with as far as politics was concerned.

He said the next general election was just around corner and that there was not much time on their side to waste, stressing that this called for building of a united front for serious actions to wrestle power.

He called for team-work to exist among members to forge ahead and serve as an alternative to the ruling party during the next general election.

Mr Kobina Ivor Greenstreet, General Secretary of the CPP called on members to support the National Democratic Congress government's socially-centred policies which conformed to those of the CPP to better the lot of Ghanaians.