Nana Addo's car still at the Castle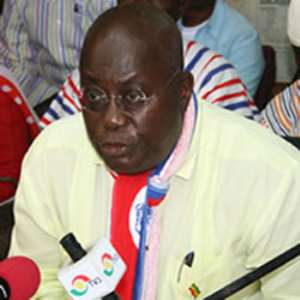 The vehicle belonging to the presidential candidate of the New Patriotic Party (NPP) for Election 2008, Nana Akufo-Addo, which was seized by national security operatives is still in the custody of the state.
The Toyota Land Cruiser was confiscated while undergoing maintenance at a garage in Accra.
Mr Mustapha Hammid, spokespersons for Nana Addo, said attempts to retrieve the vehicle have been frustrated.
Mr Hammid said officials at the presidency claim there are irregularities with the documents covering the vehicle.
The latest seizure is the second to have been carried out by national security operatives in like manner since President John Mills assumed office in January 7, 2009.
The first vehicle was returned to the former presidential candidate a week after its seizure with apologies from government that it had been mistaken for a state property.
Following these incidents, members of the opposition NPP have accused the government of perpetrating "political persecution."
Nana Addo's running mate during the 2008 elections, Dr Mahamudu Bawumia, suffered a similar fate in Tamale when his vehicle was taken away for a thorough search upon a tip-off communicated from the Bureau of National Investigations in Accra.
Officials of the bureau said they had suspicion the Dr Bawumia had been carrying weapons in his vehicle.
For now, Nana Addo's Toyota Land Cruiser is still parked in a garage at "Castle Annex" awaiting further scrutiny of documents covering it.
But sources close to the presidency say the vehicle would only be returned to the former flag-bearer after investigations into its acquisition are completed.
Story by Fiifi Koomson/Myjoyonline